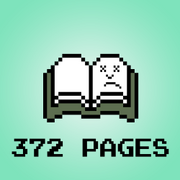 372 Pages We'll Never Get Back is a podcast produced by Michael J. Nelson and Conor Lastowka (a writer for RiffTrax). It was launched in September of 2017.
The podcast initially featured the two men discussed the pop-culture-laden novels of author Ernest Cline. They later went on to other novels of dubious distinction.
Works Discussed
Ready Player One by Ernest Cline
Armada by Ernest Cline
The Eye of Argon by Jim Theis
TekWar by William Shatner
The Forensic Certified Public Accountant and the Cremated 64-SQUARES Financial Statements by Dwight David Thrash
Bob Honey Who Just Do Stuff by Sean Penn
The Mister by E.L. James
Trucking Through Time by Charles E. Harris
Lair of the White Worm by Bram Stoker
Shadow Moon by George Lucas and Chris Claremont
Moon People (aka Moon People Vol. 1 The Age of Aquarius) by Dale M. Courtney
Digital Fortress by Dan Brown
My Immortal by Tara Gilesbie (aka xxxbloodyrists666xxx)
Midnight Sun by Stephenie Meyer
Ready Player Two by Ernest Cline
The Quilters Push Back: Miranda Hathaway Adventure #7 by Mary Devlin Lynch, Debbie Devlin Zook, and Beth Devlin-Keune
External Links
Community content is available under
CC-BY-SA
unless otherwise noted.