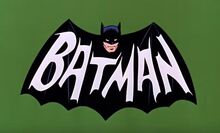 Batman is a comic book super-hero who has also expanded into film, television and other forms of media.
The 1966 Batman television show starring Adam West was a cultural phenomenon and has had a lasting affect on pop culture. It also featured Cesar Romero and Burgess Meredith as recurring villains the Joker and the Penguin, respectively. It ran for 3 seasons and spawned a feature film as well.
Following the success of the 1989 Batman film starring Michael Keaton, Batman: The Animated Series made its debut. Mark Hamill was featured as the voice of the Joker. The show made its own cultural impact that still resonates today.
MST3K Connections
"Batman" actors on MST3K
Many actors who appeared in various Batman productions also appeared in films used by MST3K. These include:
RiffTrax
RiffTrax has riffed several "Batman"-related productions:
Additionally, the 1995 film Batman Forever was riffed as a "RiffTrax Presents" from Doug Walker, Rob Walker and Brian Heinz as "THEGUYWITHTHEGLASSES.com"
Community content is available under
CC-BY-SA
unless otherwise noted.