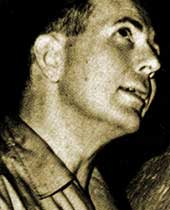 Bert Ira Gordon (born September 24, 1922, in Kenosha, Wisconsin) is a former movie director best known for his crudely-made science fiction and fantasy films, eight of which have been featured on Mystery Science Theater 3000.
Riffed Movies
Biography
A one-time maker of television commercials, Bert I. Gordon specialized in "gimmick" movies, usually involving giants or gigantic animals. His first two films, King Dinosaur and Beginning of the End, were fairly crude even by the standards of the mid '50s, involving giant lizards and locusts, respectively. The Cyclops showed somewhat more promise, with its story about a man transformed into a one-eyed monster by atomic radiation, and The Amazing Colossal Man, made for American International, was a major hit. Gordon followed this with Attack of the Puppet People, about a scientist who shrinks people to doll size, while The Spider (aka Earth vs the Spider) was about a giant spider that attacks a small town. Gordon tried other forms of fantasy film during the '60s, but giantism always served him well in pictures like Village of the Giants, about juvenile delinquents who grow to mammoth proportions. During the '70s, he scored two very minor hits with Food of the Gods and Empire of the Ants (both loosely based on works by H.G. Wells), both dealing with giantism and sporting ludicrous special effects.[1]
Gordon often did the special effects for his films in collaboration with his wife, Flora M. Gordon. Gordon's "special effects" usually consisted of rear-projection enlargements and not much else, although his fantasy film The Magic Sword (1962) was surprisingly well made, with a better cast than usual in a Gordon film and a good story.
Trivia
Father of actress Susan Gordon, who played Sandy in Tormented.
Nicknamed "Mister Big" by Forrest J Ackerman, both for his initials and for his many '50s giant creature movies.
Educated at the University of Wisconsin.
Has the distinction, dubious though it may be, of having the most movies shown on Mystery Science Theater 3000.
Began making home movies in 16 mm when he was only nine years old.[2]
Appeared in a retrospective on the MST3K DVD release of Tormented, along with his daughter Susan and actor Joe Turkel.
Career retrospective and interview featured in issue #153 of Rue Morgue Magazine
Filmography
Satan's Princess 1990 (Director/Producer)
The Big Bet 1985 (Director/Producer/Screenwriter)
Let's Do It 1982 (Director)
Burned at the Stake 1981 (Director)
The One and Only 1978 (Screenwriter)
Empire of the Ants 1977 (Director/Producer/Special Effects/Screenwriter)
The Food of the Gods 1976 (Director/Producer/Screenwriter)
The Mad Bomber 1972 (Director/Cinematographer/Producer/Screenwriter)
The Witching 1972 (Producer/Screenwriter/Director)
How to Succeed With Sex 1970 (Screenwriter/Director)
Picture Mommy Dead 1966 (Director/Producer)
Village of the Giants 1965 (Director/Producer/Special Effects)
The Magic Sword 1962 (Producer/Director)
Tormented 1960 (Producer/Special Effects/Director)
The Boy and the Pirates 1960 (Director/Producer)
Earth vs the Spider 1958 (Director/Producer)
War of the Colossal Beast 1958 (Director/Producer/Special Effects/Screenwriter)
Attack of the Puppet People 1958 (Director/Producer/Screenwriter)
The Cyclops 1957 (Director/Producer/Special Effects/Screenwriter)
The Amazing Colossal Man 1957 (Director/Producer/Special Effects/Screenwriter)
Beginning of the End 1957 (Director/Producer/Special Effects)
King Dinosaur 1955 (Director/Producer)
Serpent Island 1954 (Director/Producer/Screenwriter)[1]
References