Best Brains, Inc. (first known as Hair Brain Productions, currently Consolidated Puppets Incorporated) is an entertainment company based in Eden Prairie, Minnesota. It was the production company originally responsible for Mystery Science Theater 3000.
According to Joel Hodgson, the name "Best Brains" came from "...a phrase I found in a magic catalog. It was the old 'Vick Lawston' magic catalog. The copy read something like: 'from some of the Best Brains in the magic business!'"[1]
MST3K ceased production in 1999 and the Best Brains studio was closed. For some time, the company's only function was to sell MST3K-oriented merchandise and negotiate distribution.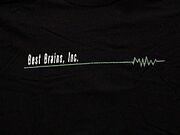 On November 5, 2007, Jim Mallon and Paul Chaplin of Best Brains revived the MST3K brand by launching a new series of Flash-based animated shorts featuring the robots of Mystery Science Theater 3000 on the official website. The series ended after four episodes were produced.
In 2015, it was announced that Shout! Factory had purchased all rights to Mystery Science Theater 3000 from Best Brains, Inc. for an undisclosed sum. Shout! then partnered with Joel Hodgson's Alternaversal, LLC to produce MST3K through a joint venture, Satellite of Love, LLC.
Best Brains itself was renamed Consolidated Puppets Incorporated.[2]
External links
References