Callipygeas is a Roman noble who appeared in the Roman Times arc of Mystery Science Theater 3000's season 8. He was married to Flavia. Hospitable and congenial, but not particularly bright, Callipygeas eagerly welcomed new "gods" Pearl Forrester and Brain Guy, as well as the "Mad Goth", Professor Bobo. He was rather taken with these new visitors and not involved or interested in his wife's attempts to undermine them. It is possible that he was killed when Bobo accidentally set the city on fire.
His name is a play on the obscure word callipygean, meaning "having attractive buttocks".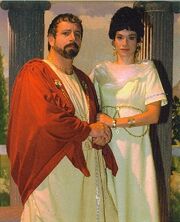 Community content is available under
CC-BY-SA
unless otherwise noted.