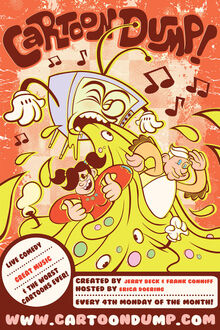 Cartoon Dump is a long-running live show produced by Frank Conniff, Erica Doering, and animation historian Jerry Beck. It exists as both a live show and a video podcast.
For many years, it was a regular show at the Steve Allen Theater in Los Angeles and at QED: A Place to Show and Tell in Astoria New York. It has also been performed live at comedy festivals.
The format of the live shows mimicked local television kid's shows, with costumed characters presenting shows from the Cartoon Dump. These cartoons were often poorly made examples from the 1950s and 60s. Some international works were also included. The cartoons were presented with comment or riffs.
Conniff often played the depressed bird Moodsy Owl, with Erica Doering as Compost Brite. Other cast and crew from Mystery Science Theater 3000 made guest appearances, including Joel Hodgson and J. Elvis Weinstein.
Links
Community content is available under
CC-BY-SA
unless otherwise noted.