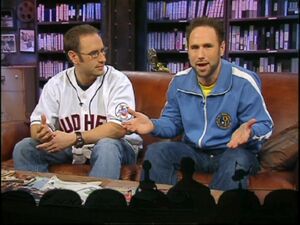 Cheap Seats (originally Cheap Seats Without Ron Parker) is a humorous sports-related comedy show which aired on ESPN Classic from February 4, 2004 to November 19, 2006. It was hosted by the twin comedians Randy and Jason Sklar.
The show features clips of famous or bizarre sporting events, with the Sklars providing humorous audio commentary. The show also features short sketches inspired by the clips. In many ways, Cheap Seats was a spiritual antecedent of Mystery Science Theater 3000, and the Sklars have acknowledged the influence that MST3K had on them.
MST3K Crossover
One episode, "Creative Breaking/K-1 Fighting", includes appearances by Mike Nelson, Crow T. Robot and Tom Servo, as performed by Michael J. Nelson, Bill Corbett and Kevin Murphy.[1] The SOL crew note the similarity of Cheap Seats to MST3K, as well as making various references to the wacky fighting and pop culture references to MST regulars such as Gamera.
This segment is featured on the DVD for Episode 1008 - Final Justice in Shout! Factory's Volume XIV collection, as well as Mystery Science Theater 3000: The Lost and Found Collection.
Another episode featured an appearance by Patton Oswalt.
References
Community content is available under
CC-BY-SA
unless otherwise noted.