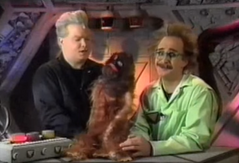 Clayton Forrester is one of the test subjects, alongside TV's Frank on the Satellite of Love in the mirror universe at the time of Last of the Wild Horses.
Clayton is the mirror universe version of Dr. Clayton Forrester from the prime universe.
He and the mirror Frank were good at riffing, but obsessed with Joey the Lemur. After the movie, they made contact with the prime universe's Satellite of Love, but Mike and the bots quickly found them annoying while trying to read a letter. Afterwards, Mike says, "Wow! In a way, really, Its kinda comforting to know that, uh... no matter what universe your from, you can still be really annoying," to which the bots readily agree.
Gallery