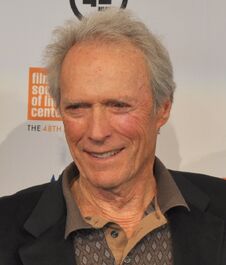 Clint Eastwood (born May 31, 1930 in San Francisco, CA, USA) is an award-winning, acclaimed actor and director.
Eastwood began his career on television, eventually starring on the series Rawhide. He later enjoyed success in films as both an actor and director. His notable credits include the Dirty Harry franchise, Kelly's Heroes, Bronco Billy, City Heat, In the Line of Fire (with John Malkovich), The Bridges of Madison Country, Unforgiven (with Morgan Freeman and Richard Harris), Million Dollar Baby, Gran Torino and Trouble With the Curve (with Robert Patrick).
MST3K Connections
During the host segments for Experiment 706 Laserblast, the MST3K crew harrangued the well-known film critic (and later guest star) Leonard Maltin for giving the episode's movie high marks and also for giving acclaimed movies such as Eastwood's Unforgiven a lesser rating.
Eastwood starred in the films Every Which Way But Loose and Any Which Way You Can, which co-starred an orangutan. These films prompted an argument between Professor Bobo and Observer at the end of Experiment #813 Jack Frost.
Eastwood's signature quote from the Dirty Harry films is randomly referenced by Michael J. Nelson during his and Kevin Murphy's RiffTrax treatment of 1978's Halloween.[1]
Riffed Movies
References
Community content is available under
CC-BY-SA
unless otherwise noted.