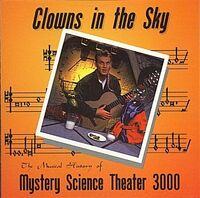 Clowns in the Sky is the title of a CD featuring music from the first seven seasons of Mystery Science Theater 3000. Released in 1996 exclusively through the MST3K Info Club, the songs featured include the many versions of the opening theme, the closing theme, and the best of various tunes that were featured in host segments throughout the show. The CD takes its name from the song featured in the last host segment of the episode Pod People, A Clown in the Sky.
A second collection that covered the show's later years, Clowns in the Sky II, came out in 1998.Clowns in the Sky is currently out-of-print, but on December 29, 2009, was made available on iTunes, along with the second album as part of a compilation.
Songs & Sketches Featured
The episode each song was featured in is listed in parenthesis after the title.
Community content is available under
CC-BY-SA
unless otherwise noted.