For the MST3K episode, see MST3K 307 - Daddy-O.
Daddy-O is a 1958 musical crime thriller film directed by Lou Place and written by David Moessinger.
Plot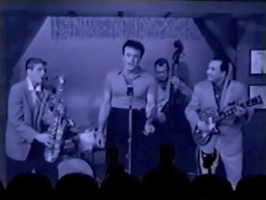 A truck driver named Phil meets a blonde bombshell named Jana when she tries to run his truck off the road. Phil meets Jana again at a nightclub where Phil sings. They have a drag race.
Meanwhile, Phil's best friend Sonny is run off the road by dope-peddlers and dies in the crash. Phil is briefly accused of having caused the accident that killed his best friend, but he is quickly exonerated.
Phil goes undercover at the bad guys' nightclub (taking on the alias "Daddy-O") to find out who really caused Sonny's death. He sings at the nightclub and moonlights driving the drug smugglers' car. Jana wants to help him investigate, so she gets hired on as a cigarette girl, against Phil's wishes.
The good guys solve the crime and fall in love.
Cast
Dick Contino as Phil Sandifer/"Daddy-O"
Sandra Giles as Jana Ryan
Bruno VeSota as Sidney Chillas
Gloria Victor as Marcia Hayes

Sonia Torgeson

as Peg Lawrence

Robert Banas

as Sonny DiMarco
Notes
Music composed by John Williams (making his debut here).
Features original songs by Alan Copeland and Jack Lloyd, with additional material by

Jack Marshall

.
Actress Sandra Giles was a good friend of Mamie Van Doren.