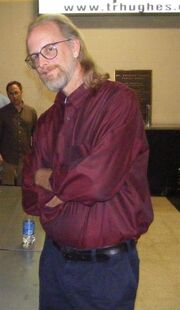 David Gruber Allen (typicaly billed as Dave (Gruber) Allen or some variation) is an American actor, guitar player, and comedian. He is well-known for his character The Naked Trucker. 
MST3K Connections
Allen has been involved with several projects that also involved the cast and crew of Mystery Science Theater 3000.
He was the titular "Gruber" in the The Comedy Channel (later Comedy Central) TV series The Higgins Boys and Gruber, which was created and co-written by Joel Hodgson and would occasionally be referenced on MST3K. Hodgson and Jim Mallon also appeared on the program.
Allen performed as part of the cast of Joel Hodgson's The TV Wheel.
Allen had a supporting role on the TV series Freaks and Geeks, in which Trace Beaulieu and Joel Hodgson had recurring roles and Josh Weinstein worked as a writer.
In an October, 1999 Yahoo.com interview, MST3K writer and performer Paul Chaplin stated Allen was the one who performed the acoustic version of the MST3K Love Theme song for trailers of Mystery Science Theater 3000: The Movie.[1]
Allen was also involved with Cinematic Titanic, playing Todd (credited as "Todd Carlin"), one of the representatives of the organization that had recruited the CT riffers and introduced each movie to them in the studio episodes.
He introduced several live performances of Cinematic Titanic, and can be seen in the video of War of the Insects and Rattlers. He joined the riffers during at least one performance of The Astral Factor when J. Elvis Weinstein was not available. 
At a 2008 Cinematic Titanic show in St. Louis, Joel Hodgson revealed that Allen actually was responsible for suggesting the well-known MST3K initialization.[2]
Allen co-starred in the 2014 short film The Frank, written and directed by Trace Beaulieu. 
In 2016, Allen co-starred in the pilot for a half-hour comedy series, Renfest, created by Mary Jo Pehl and Trace Beaulieu.[3]
Name
Allen's professional name "Gruber" comes from "Groover," a nickname he was given in high school.[4] His preferred professional name is "Dave (Gruber) Allen", with "Gruber" in parentheses.[2]
External links
References