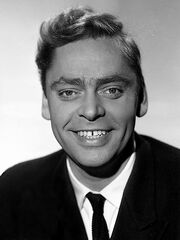 Dirch Hartvig Passer (18 May 1926 – 3 September 1980)  was a celebrated Danish actor. He was greatly renowned for his improvisational skills and, with a filmography comprising 90 movies, one of Denmark's most prolific actors. His life is depicted in the Danish semi-biographical film A Funny Man (2011, Danish title Dirch) directed by Martin Zandvliet.
Career
Passer was often referred to as a loud actor in spite of the fact that under-acting was responsible for much of his force. A Danish critic, Jens Kistrup, once said that one of the secrets behind the comedy of Passer was its combination of elements that are normally regarded as incompatible. He possessed noisiness and discretion, loudness and quietness, boundlessness and complete control, craziness and softness — all this combined with a special intimacy with the audience. Among his inspirations he mentioned Joe E. Brown but he was also known for his admiration of the British comedian Tommy Cooper. In his films, which were of very mixed quality, he often played kind and somewhat crazy "Everymen" or antiheroes. Among his best movie roles were stage roles transferred to film; here must be mentioned the hero in Charley's Aunt (1959), Celestin-Floridor in Frøken Nitouche (1963) and Leopold in Summer in Tyrol (i.e. The White Horse Inn, 1964).
Numerous Danish actors see him as a role model. In day-to-day life he was quite shy in behavior, somewhat the opposite of his theatrical appearances. He collapsed just off stage dressed as a clown for the opening number of the season premiere of Tivolirevyen, dying shortly after arrival at the hospital.
Riffed Movies
Community content is available under
CC-BY-SA
unless otherwise noted.