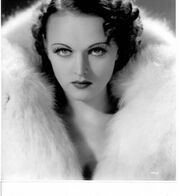 Dorothy Arnold (Nov 21, 1917 - Nov 13, 1984) was born in Duluth, Minnesota as Dorothy Arnoldine Olson. She was a blonde who became a nightclub dancer and enjoyed a brief stint with Universal in the late 1930s.
Dorothy Arnold retired from acting in 1939 to become the wife of baseball great Joe DiMaggio. Their marriage (the first for both) lasted until 1944, and later prompted a protracted court battle over visitation rights for their son Joseph DiMaggio III. She briefly returned to acting in the late 1950s.
Dorothy Arnold later ran a successful supper club in Palm Springs called "Charcoal Charley's" with her third husband Gary Peck. She often performed there as well.
Dorothy Arnold died in Palm Springs, California from pancreatic cancer.
Riffed Movies
Community content is available under
CC-BY-SA
unless otherwise noted.