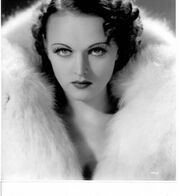 Dorothy Arnold (Nov 21, 1917 - Nov 13, 1984) was born in Duluth, Minnesota as "Olson", She was a blonde who became a nightclub dancer and enjoyed a brief stint with Universal in the late 1930s.
She retired from acting to become the first wife of baseball great Joe DiMaggio. Their marriage lasted until 1952 and ended in a protracted court battle over a son, Joseph DiMaggio III. With her third husband, Gary Peck, she later ran a successful supper club in Palm Springs called "Charcoal Charley's," where she often performed.
Dorothy Arnold died in Palm Springs, California from pancreatic cancer.
Riffed Movies