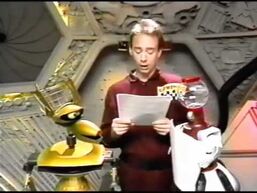 Earth vs. Soup is a screenplay by Crow T. Robot.
Origins
During Experiment #313, Crow presents Joel and Tom with a screenplay he has been working on in the hopes of selling it for big money back on Earth.  The screenplay, Earth vs. Soup, involves humanity doing battle with a giant bowl of soup.
Development
Earth vs. Soup is referenced off and on throughout the rest of the series' run on Comedy Central, such as in Experiment 622
During Experiment #622, Crow writes another screenplay, Chocolate Jones and the Temple of Funk (a play on the film Indiana Jones and the Temple of Doom) that appears to be a version of the same idea with an added blaxploitation element.
During Experiment #704, Crow's original Earth vs. Soup script is sold by Pearl and Dr. Clayton Forrester, but Crow encounters many frustrations in his attempt to produce the film.
Behind-the-scenes
Crow's difficulty in bringing Earth vs Soup to the big screen is a reference to the real-life problems the MST3K crew had in producing Mystery Science Theater 3000: The Movie.