For the actor, see Ed Nelson.
"
Who's this Mike? I don't know no Mike... ...'Cept for my kid brother Mike...
"
 
— Eddie
Edward 'Eddie' Nelson is Mike Nelson's older brother and is quite opposite from him (even more so than the Mike (mirror) opposite from Last of the Wild Horses). He is fast talking, big, brutish, and aggressive. He and Mike took a string of temp jobs until Mike went to work for Dr. Clayton Forrester and TV's Frank at Deep 13 and later the Satellite of Love.
Alternate Universe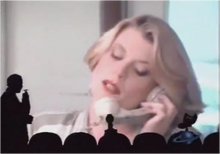 In an alternate universe that Crow created while inspired by watching the movie Time Chasers, Crow kept Mike from going to any more temp jobs, to instead work on his band, Sex Factory. The band did remarkably well, opening for Motörhead (from Experiment 604 Zombie Nightmare) at the Cleveland Civic Center the night Mike was accidentally killed. He was hit on the head with a few large hotel keys thrown by female fans, and died right on stage. Eddie didn't like the fact that Mike missed some temp jobs that would almost meet minimum wage, but was most proud of Mike when he died, saying that his death was "an excellent way to go".
Eddie eventually took a temp job at Deep Thirteen (presumably the same time as Mike's in Mitchell) and was shot into space when "'that sleepy eyed guy' left". Eddie emotionally scarred Tom Servo so much that he became a nervous, spineless, sniveling, sycophant yes-man who sometimes repeats what others are saying around him. He forced Servo to clean his messes and used his dome as an ashtray. Eddie hates puns, and will physically abuse the bots whenever they use any, not like he needs an excuse anyway. During movies (especially shown in Time Chasers), Eddie will get up for a smoke or a beer. When Crow got the universe back to the way it was supposed to be, Eddie did not go to work for Forrester and probably continued his temp jobs.
Eddie apparently takes offense when people insult his reality.
Community content is available under
CC-BY-SA
unless otherwise noted.