For the episode, see MST3K 705 - Escape 2000.
Escape 2000 is a 1983 action film directed by Enzo G. Castellari. It is a sequel to the 1982 film 1990: The Bronx Warriors.
Plot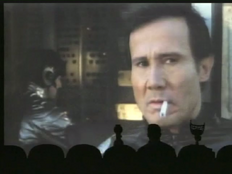 The "General Construction Corporation" hires a group of militarized thugs to re-locate or murder everyone living in the Bronx so they can re-purpose the area with upscale apartment buildings. When renegade gang leader "Trash" (Mark Gregory, reprising his role from 1990: The Bronx Warriors) discovers these "Disinfestors" have killed his parents, he decides to seek revenge. Things get blown up, people get killed, and the main villain is named "Floyd Wangler."[1]
Cast
Notes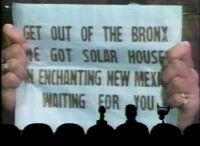 On the wall in the apartment of Trash's parents is a large black and white poster of Mark Gregory from 1990: The Bronx Warriors.
Carla Brait cameos as the Ironman leader from the first movie 1990: The Bronx Warriors.
Director Enzo G. Castellari cameos as the radio operator with the mustache.
The full death toll in the uncut version is 174. There are 110 killed in shootings, 40 in explosions, nine by flamethrowers, one by stabbing, one off-screen kill, four unknowns, six electrocutions, two bashed in the face with a helmet and one face turned to red mush after being hit with a shotgun butt.
Giancarlo Prete (Strike) and Andrea Coppola (Jay) also appear in Warriors of the Wasteland, another similarly post-apocalyptic Italian movie that would later be featured on RiffTrax.
Not to be confused with another film entitled Escape 2000, released in 1982, starring Steve Railsback and Olivia Hussey.
Mark Gregory's character Trash wears his leather jacket constantly throughout the movie, even in fight scenes. The reason for this is that he had lost much of the muscle mass that he had had in the the movie 1990: The Bronx Warriors, which greatly disappointed this movie's producers.
Even though Mike and the bots seem to express skepticism that this movie actually was shot in New York, the exteriors actually were filmed on location in New York, including the real-life Bronx. (Interiors were filmed in Italy.)
Community content is available under
CC-BY-SA
unless otherwise noted.