Biography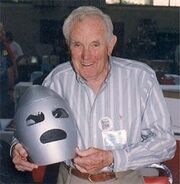 George Wallace (1917-2005) was an American actor. He spent eight years in the Navy and saw action in both Pacific and European theaters. After the service, he journeyed to Hollywood and embarked on a show business career.
He made his film debut in Submarine Command (1951); his subsequent movie credits include The Fat Man (1951), Million Dollar Mermaid (1952), The Big Sky (1952), The French Line (1954), Destry (1954), Night of the Hunter (1955), Forbidden Planet (1956), Texas Across the River (1966), Skin Game (1971), The Stunt Man (1980), Things Are Tough All Over (1982), Protocol (1984), Just Between Friends (1986), Punchline (1988), Postcards from the Edge (1990), A Rage in Harlem (1991), Defending Your Life (1991), and My Girl 2 (1994).
Wallace also had an extensive stage career. When a New York production of Pajama Game needed a replacement for leading man John Raitt, Wallace filled the role. On Broadway, he appeared in New Girl in Town and Rodgers & Hammerstein's Pipe Dream. With his wife, Jane Johnstone, he starred in Hal Prince's Company. He was also seen in The Jackie Robinson Story with David Alan Grier in the title role.[1]
On July 22, 2005, Wallace died at Cedars-Sinai Medical Center in Los Angeles from injuries he sustained during a fall while on vacation in Pisa, Italy.[2]
Riffed Movies
Radar Men from the Moon - as Commando Cody
Sources
Community content is available under
CC-BY-SA
unless otherwise noted.