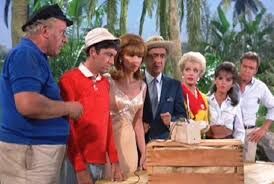 Gilligan's Island is an American television comedy that ran from September 26, 1964 to April 17, 1967. Created and produced by Sherwood Schwartz, the series featured Bob Denver, Alan Hale Jr., Jim Backus, Natalie Schafer, Tina Louise, Russell Johnson and Dawn Wells.
Richard Kiel guest-starred on an episode as a Russian spy known as the Ghost. Glenn Langan of The Amazing Colossal Man also appeared on the series as a Navy pilot.
The show had a catchy theme song (with separate verses that played over the opening and closing credits) with several quotable lyrics. During the show's first season, Johnson and Wells were only referred to as "and the rest" during the opening theme song (while the other actors characters were identified by their titles) because of a clause in Tina Louise's contract. This was changed in the in second season, but the lyric "and the rest" inspired several riffs on MST3K and its corollary productions.
Season 1
Season 2
Season 5
Season 6
The film features Alan Hale Jr. and Jim Backus, both of whom starred on Gilligan's Island.
The Movie
Season 8
Season 9