Godzilla is the titular monster in a popular Japanese movie franchise created by Toho Co. Many successful installments have been produced and the character has been licensed twice by American studios.
Movies riffed
Godzilla appeared in two not-as-well received sequels that were shown during Season 2: they were Godzilla vs. Megalon and Godzilla vs. the Sea Monster.
In the 2nd Annual Summer Blockbuster Review special, the SOL crew was unable to use show clips from that summer's poorly-received 1998 American Godzilla film (and the monster's name was humorously bleeped out when reference was made to it) for "legal reasons". Crow substituted his own cheaply made short entitled "Goshzilla" instead.
The 2006 DVD release of Experiment #212 Godzilla vs. Megalon as part of the Volume 10 Boxed Set was the subject of legal action as well, resulting in a special short being produced for the disc of The Giant Gila Monster that would replace it in the boxed set. This DVD short reunited Joel Hodgson, Trace Beaulieu, and Frank Conniff as the SOL Crew and the Mads respectively (with Frank providing the voice of Tom Servo).
In 2014, RiffTrax started up a Kickstarter campaign to riff on the 1998 American version of Godzilla in anticipation of the second American version of Godzilla and since the 1998 Matthew Broderick version was one of their most requested riff treatments due to not being well-received.
Guest appearances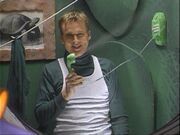 Godzilla appeared off-screen during the host segments for Gamera while Gamera (out-of-costume) was trying to broker a deal on an upcoming movie with the two of them fighting each other on-screen. Godzilla reacted to the idea by emitting some smoke from the phone receiver.
Gallery
Community content is available under
CC-BY-SA
unless otherwise noted.