"Gooch" (actually pronounced Cooch) is a character in The Side Hackers.  He's a henchman of hot tempered stunt motorcycle promoter, J.C.  He's asked to gain the trust of Vince Rommel, J.C.'s arch rival when Rommel assembles a gang to come after J.C. "Gooch" is a very obedient Henchman, so he will.  He will.  He will help him.  When "Gooch" is found out to be a spy though, J.C. deals with the "Gooch" the only way he knows how - he shoots him.
"Gooch" visits the SOL during the third movie break with J.C.  J.C.'s plan is to help bring the crew back to Earth until they see them imitating Rommel, so he asks "Gooch" to get them. "Gooch"
will
.  He will
get
them.  He
will
get them.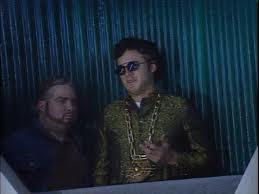 Community content is available under
CC-BY-SA
unless otherwise noted.