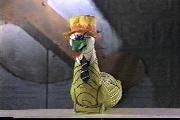 Goosio was a character (played by Patrick Brantseg) who appeared in a host segment in episode 1008, Final Justice.
In one of the episode's theater segments, Mike pointed to a parade float and said "It's the beloved Maltese children's character Goosio!" In a subsequent host segment, Goosio, friend to Maltese children everywhere, appeared on the Satellite of Love as a goodwill ambassador. Crow and Tom assumed that Goosio was a lifeless puppet that Mike was using to play a joke on them and proceeded to savagely attack and kill Goosio, much to Mike's dismay.
In the moments before his gruesome death, Goosio sings a heartwarming song of joy;
"The Ballad of Goosio"
Goosio Goosio Goosio!
Did you know I'm Goosio?
Friend to Maltese children everywhere-io
Goosio Goosio Goosio!
I bet you knew-sio
It's me-sio, your friend Goosio
Goosio Goosio Goosio!
Everyone loves Goosio!
Gather 'round children and hear my song
I'm Goosio Goosio Goosio!
Goosio loves you everyone
Goosio!  Ha ha ha ha ha!
Community content is available under
CC-BY-SA
unless otherwise noted.