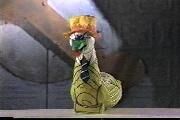 Goosio is a small, puppet-sized bird. He is recognized by Mike Nelson during the screening of Final Justice during Experiment #1008 ( "It's the beloved Maltese children's character Goosio!") and later appears on The Satellite of Love as a goodwill ambassador singing "The Ballad of Goosio", only to be savagely attacked and killed by Crow T. Robot and Tom Servo, who assumed he was just a puppet being operated by Mike. Upon discovering the murder, Mike is overcome with remorse.
"The Ballad of Goosio"
Goosio Goosio Goosio!
Did you know I'm Goosio?
Friend to Maltese children everywhere-io
Goosio Goosio Goosio!
I bet you knew-sio
It's me-sio, your friend Goosio
Goosio Goosio Goosio!
Everyone loves Goosio!
Gather 'round children and hear my song
I'm Goosio Goosio Goosio!
Goosio loves you everyone
Goosio!  Ha ha ha ha ha!
Community content is available under
CC-BY-SA
unless otherwise noted.