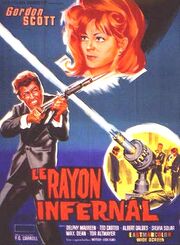 Gordon Scott  (1926-2007) was an American-born actor.
A native of Portland, Oregon, Gordon M. Werschkul first majored in physical education at the University of Oregon, but dropped out after one semester. He joined the Army, became an infantry drill instructor, then a military policeman. After his honorable discharge in 1947 he went on to be a fireman, cowboy, and farm machinery salesman.
In 1953, Gordon was working as a lifeguard at the Sahara Hotel in Las Vegas when he was spotted by a pair of Hollywood agents, who were impressed by his muscular physique and 19-inch biceps. They introduced Gordon to producer Sol Lesser, who had already conducted 200 tests in search of a new Tarzan. Lesser cast Mr. Werschkul in Tarzan's Hidden Jungle, gave him a seven-year contract and a new last name.
Gordon Scott's new career led to romance when he married his co-star, Vera Miles.
After doing six Tarzan movies, Gordon went on to star in several sword and sandal movies, some secret agent movies, and some westerns. He and Steve Reeves were good friends and did a few movies together, including Duel of the Titans, in which Steve played Romulus and Gordon played Remus.
Riffed Movies
Community content is available under
CC-BY-SA
unless otherwise noted.