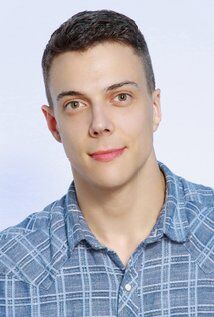 Hampton Yount (born 1984) is an American comedian, writer and actor. His last name is pronounced "Yunt".
In November 2015, it was announced that Yount would be involved in the crowd-funded revival of Mystery Science Theater 3000. He provides the voice of Crow, and operates the puppet's mouth.
Yount had previously appeared on The Meltdown with Jonah and Kumail, hosted by Jonah Ray.
Behind the scenes
Hampton and Baron Vaughn were brought to Joel Hodgson's attention by Jonah Ray, who Hodgson knew needed to be involved in the process of selecting the actors he would be working with. After an initial meeting, Hampton and Baron participated in a test session on Skype where "they did great first reads on the respective characters, but it was the stuff between takes that kind of took [Joel's] breath away".
During the filming of the video for the Kickstarter project, Joel realized Hampton did "a killer impression" of Trace Beaulieu's version of Crow, but cautioned Hampton against doing more of that since it would make developing the character into his own version later on more difficult. Just as Kevin Murphy's Tom Servo didn't sound exactly like Josh Weinstein's and Bill Corbett's Crow didn't sound exactly like Trace Beaulieu's, Joel sees the bots as "manifestations of the people running them" and "the point of being a movie riffing robot is that you can do a bunch of voices and dialects – not just sound like the last guy".[1]
After the announcement that there would no additional seasons of MST3K produced for Netflix, Yount's potential involvement with any future MST3K projects became unclear. It was later announced that he would return as the voice and operator of Crow for the crowd-funded Season 13. Yount participated in several of the livestream events to promote the Kickstarter campaign.
Gallery
References