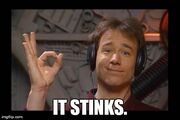 "Idiot Control" (aka "Idiot Control Now") is a song sung by Joel Robinson and the Bots that parodies the unintelligible recording scene from the movie Pod People.
Later, it was revealed by Dr. Laurence Erhardt that it was Dr. Clayton Forrester's last wish that he be buried on Mearth to the song "Idiot Control Now". After an extensive search, the song was located among the Kingachrome and Dr. Erhardt played it while carrying out his mission.
Lyrics
JOEL

With a pickle mind
We kick the nipple beer
Steady as a goat
We're flying over trout
Ghetto down the highway
At the speed of light
All I wanna feel now
Is the wind in my eyes
Sack of monkeys in my pocket
My sister's ready to go

ALL
Hear the engines roar now
Idiot control now
Hideous control now
Ninny on the road now
Minnie in control
Wheels on fire
Burning rubber tires

Blurry jelly rolls now
Hitting Lesley Gore now
Needy inches bow down
Pitying a poor boy
Hear the engines roar
Bees on pie
Burning rubber tires

Original version
The song appears in the original film Pod People aka Extra Terrestrial Visitors aka Los Nuevos Extra Terrestres sung by actor Ian Sera.
Lyrics
With a fickle mind, we kick her into her gear
Steady as she goes, we're flying overdrive
Get on down the highway at the speed of light
All I want to feel now is the wind in my eyes
With stacks of money in my pocket,
All systems ready to go

Hear the engines roar now
Hear the engines roar now
Hear the engines roar now
Hear the engines roar now
Hear the engines roar now
Wheels on fire
Burning rubber tires

Credits