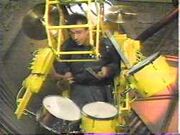 The Invention Exchange is a ritual popularized at the Gizmonic Institute whereby inventors demonstrate a recent invention for each other. As practiced by the participants in the "Mystery Science Theater 3000" experiment, it serves as an informal contest, with each side trying to "win".
Joel Robinson, as an inventor, enjoyed and encouraged the Invention Exchange. Whenever he wasn't able to show off his invention, it seemed to bother him. His replacement, Mike Nelson, on the other hand, was not naturally inclined to such a scientific endeavor and the practice gradually diminished during the first few months of his captivity, until it ceased altogether.
When Kinga Forrester revived the experiment, she also revived the practice, "competing" with Gizmonic employee (and new test subject) Jonah Heston.
List of Invention Exchanges
Joel Robinson Era
Mike Nelson Era
Jonah Heston Era
Behind-the-scenes
The Invention Exchange was created as a means of featuring the "prop comic" nature of show creator and original host Joel Hodgson's humor.
The first few episodes with Michael J. Nelson in the lead also featured invention exchanges, but they were soon phased out to accommodate Nelson's less prop-oriented brand of humor.
When the show returned with Hodgson at the helm and new host Jonah Ray, the Invention Exchanges returned.
Community content is available under
CC-BY-SA
unless otherwise noted.