For the episode, see MST3K 1010 - It Lives by Night.
It Lives by Night is a 1974 monster movie directed by Jerry Jameson and written by Lou Shaw (who also produced).
Plot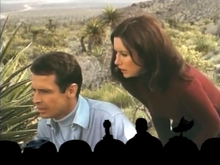 A newlywed bat research doctor is bitten by a cave bat and undergoes an accelerating transformation into a man-bat creature, which ruins his honeymoon and distresses his wife.
After committing several murders, the man-bat makes love to his wife and infects her with the bat contagion. The wife then kills the local sheriff and joins her husband in the caves.
Cast
Notes