J.C. is a character from The Side Hackers. 
J.C. is a hot-tempered promoter of stunt motorcycle shows who takes an interest in the new side hacking sport until his girlfriend is raped and beaten. His arch rival Vince Rommel is (wrongfully) accused of the act. Seeking revenge, J.C. assaults and kills Rommel's fiancee. The two men later engage in a one-on-one fistfight, after which J.C. shoots Rommel in the back and is arrested.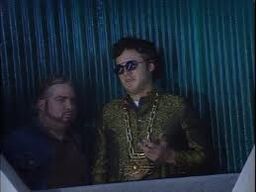 J.C. visits the SOL with his pal Gooch during the third movie break on a space-faring side hacking motorcycle. His claims that his intention was to bring Joel and the 'Bots back to Earth until he saw them imitating Rommel. He then briefly confers with Gooch about their plans before departing.
Community content is available under
CC-BY-SA
unless otherwise noted.