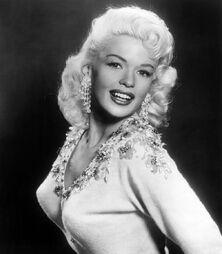 Jayne Mansfield (1933-1967, born Vera Jayne Palmer) was an American actress and sex symbol.
Jayne Mansfield was married to Mickey Hargitay from 1958 to 1964. During that time, they co-starred in The Loves of Hercules.
Jayne Mansfield was known as one of "The Three Ms" along with Marilyn Monroe and Mamie Van Doren. These three were all voluptuous blonde sex symbols of the 1950s and 60s. The only film in which two of these actresses appeared was Las Vegas Hillbillys (which featured both Jayne and Mamie, though they did not appear together).
Jayne Mansfield was Playboy Playmate of the Month in February of 1955. She posed for the magazine more than 30 times over the course of her career.
Jayne Mansfield died in 1967 at the age of 34. She was killed when the car when was riding in collided with another vehicle at a high speed. Urban legend says that she was decapitated in the crash, but this was not true (the legend seems to have been prompted by the fact that her wig was found some distance from her body and was mistaken by some onlookers for her head).
Riffed Movies
Community content is available under
CC-BY-SA
unless otherwise noted.