Joel Gordon Hodgson (born February 20, 1960) is the creator and original host of Mystery Science Theater 3000. His character, Joel Robinson, was featured from the show's creation through the middle of season five and has made occasional returns since.
Before MST3K
Early life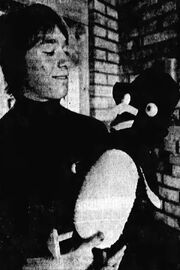 Joel, like many of the crew of Mystery Science Theater 3000, grew up in the Midwest. Early in life, Joel had a flair for both creativity and comedy; in second grade he created the "Cracker Cracker," which was a hand attached to a board. He attended Ashwaubenon High School, where he developed a magic act that included balloon animals and ventriloquism featuring a penguin named Stanley. In 1975, as a sophomore, he was named Junior Magician of the Year. After graduating, he attended Bethel College in St. Paul, MN, majoring in speech communication. In 1981, he won the Bethel College Campus Comedy Contest. Around this time, Joel made the decision to become a standup comedian.
Standup career
Joel's standup was a prop-comedy-orientated act. He developed a persona called "Agent J."
He began performing locally in the Minnesota area. He performed regularly at the Minneapolis Cabaret Club. Later, he was booked to headline the opening of The Comedy Gallery on March 18, 1982. On September 26, 1982, he won the First Annual Twin Cities Comedy Invitational, beating some well-known comedians in the process. This success prompted him to move to Los Angeles.
Joel was given a gig at the Magic Castle in Los Angeles within a week and had arranged an audition to be on Late Night with David Letterman. He got booked and made his national television debut on February 15, 1983. He was then booked on a few HBO and Showtime comedy specials.
He made his debut on Saturday Night Live on November 12, 1983, with host Teri Garr. An infamous prop during the performance was a time bomb. During the act, Joel would announce that he only had three minutes to perform. He would then reveal the time bomb and proclaim that "we ALL have three minutes." The prop department thought they could make a better time bomb than the one Joel had, which was used in the show. They gave Joel the prop as a gift, but Mr. Hodgson decided that he liked his own bomb better and left the NBC prop in his hotel room. When he arrived in Minneapolis, he was greeted by the FBI. It appears that a cleaning lady found the bomb, thought it was real, and three floors had to be evacuated. The next day, New York Daily News headline announced that "SNL Comedian Bombs in New York."
Joel continued appearing on Late Night with David Letterman and Saturday Night Live throughout the next year. In one SNL appearance, he mentioned his Mystery Science Lab. In the summer of 1984, NBC executive Brandon Tartikoff offered him a role in a sitcom based on the successful TV movie High School USA (which became a RiffTrax presentation in 2020). Joel turned down the project because he believed it wasn't funny. Believing it to be a negotiation ploy, NBC doubled the amount of money they were offering. At this point, Joel came to believe that Los Angeles was phony and he decided to return to Minnesota.
He made one more appearance on national television on September 18, 1984, on David Letterman. He had a new act so he could prove that he could still be original. On November 4, 1984, he did an act called "Hello, I must be going," which was his farewell to standup comedy. After the show, the props he used were auctioned off.
Back in Minneapolis
Joel took odd jobs and found ways to keep his creative mind active, like ironing decals at a t-shirt factory, repairing Gobot costumes used in Tonka trade shows, and building and selling one-of-a-kind robot sculptures at a Minneapolis store called Props.
In November 1985, he met Jerry Seinfeld after his performance at The Comedy Gallery. The two comedians would then work together when Joel co-wrote and appeared on Jerry's HBO special, which aired in 1987.
During the spring of 1987, Joel taught a class called "Creative Stand-Up and Smartology." One of his students was a young teenage comedian named Josh Weinstein. It was also about this time that Joel met struggling Trace Beaulieu at Eugene Huddleston's improvisational workshop that they both attended.
By June 1987, Joel returned to standup comedy, periodically performing at the Ha-Ha Club. His new act was called "Heavy Levity" and was more prop orientated than that of his "Agent J" routine. He was now an inventor, claiming his props were created in his Mystery Science Lab of the Gizmonic Institute. During a month in the spring of 1988, he did a short tour to prepare for his return to comedy. At the end of April, Joel made his official return to comedy with a show at The Comedy Gallery.
MST3K
KTMA and the birth of Mystery Science Theater 3000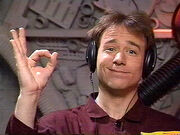 Joel Hodgson met Jim Mallon in 1985 or 1986 when Jim rented some studio space on Robert Street to edit his film Blood Hook next to a factory where Joel was working. Jim eventually became station manager of KTMA, a local low-rated UHF station.
In the summer of 1988, Mallon needed something to fill two hours on Sunday night. Mallon met with Hodgson at a deli in St. Anthony's Place to discuss a show based on standup comedy. Hodgson suggested he talk to Scott Hansen. Two weeks later, they again met, and Joel proposed the idea of Mystery Science Theater 3000.
In September 1988, work began on the pilot, which featured Trace Beaulieu as the robot Crow and Josh Weinstein as the robots Gypsum and Beeper. In the pilot, they explained the premise that Joel had built the satellite and launched himself into space. The movie chosen for the pilot was The Green Slime, though only about thirty minutes of it was riffed. Jim met with Don O'Conner, the general manager of KTMA, in early October 1988 and was able to convince him to buy 13 episodes of the show. Jim and Joel formed Hair Brain Productions.
Around this time, Joel was asked by "Weird Al" Yankovic to play the role of Philo in his comedy film UHF. Hodgson turned him down due to scheduling conflicts.
Some changes were made to the show, including the character Beeper being dropped in favor of Servo. The show was given a budget of $250 a week; Joel received $50 a week for creating the show, starring (as himself), writing, and building the props. The first three episodes were taped sometime in October 1988. They then debuted the first two episodes as part of a Thanksgiving science-fiction movie marathon. The third episode aired that Sunday, and on it they displayed a telephone number in order to receive viewer feedback.
When the fourth episode (Gamera vs Barugon) aired, they received mostly positive feedback. The show continued on with some minor changes, such as Servo's voice becoming deeper and the introduction of mad scientists Dr. Clayton Forrester and Dr. Laurence Erhardt.
Joel's main source of income was still standup. He would regularly perform at the Comedy Gallery. He was even written out of an MST3K episode so he could make a comedy appearance (which was not uncommon for the KTMA years).
On March 25, 1989, Joel taped a pilot with co-host Sue Scott for Seriously Weird Magazine at KSTP-TV, Channel 5 studios. The producers, including Scott Hansen, were hoping this would be the first comedy series syndicated by Hubbard Broadcasting.
The final episode of the first season included the announcement that the show was going on hiatus and would be back following the summer. It was announced that KTMA was going bankrupt shortly after the show's departure.
Move to the Comedy Channel
In April 1989, Hair Brain Productions made a 7-minute pilot pitch tape for other stations. A tape was also sent to HBO, which was starting a 24-hour comedy network called The Comedy Channel. At this time, Best Brains, Inc., was formed with Joel, Jim Mallon, Kevin Murphy, Trace Beaulieu, and Josh Weinstein.
In September, HBO agreed to pick up the show for 13 episodes, with the agreement that it be produced in Minnesota. BBI built a studio inside a 7500-square-foot warehouse, which was sublet from Trace's brother Bryan, in an Eden Prairie industrial park. Production began in October 1989.
At this point, Joel was still performing stand-up comedy. On October 21, Joel was taped as he performed on stage at the KCTA-TV Land O' Loons III Showcase. The show aired December 6.
Mystery Science Theater 3000 premiered on the Comedy Channel on November 18 with the The Crawling Eye. Joel's talent for creating props was showcased as each show opened with an invention exchange. Some changes were evident, such as the redesign of the robots and the new color of Servo and Gypsy. Joel's character name was now named Joel Robinson, they would show serials before some movies, and the mad scientists were now outcasts. The most important change was that everything was scripted at this point.
The Comedy Channel initially promoted it as a children's show. During this first season, the show was given mostly public-domain movies until the ninth episode (Project Moon Base), when movies were likely taken from HBO's library. The first season was well-received by fans and some critics, though in later years, some members of the crew looked back at the season poorly for what they thought were bad episodes. The Comedy Channel was failing, but MST3K was always singled out as the exception. Despite the success, they were not signed to another season. Fans launched a mail-in campaign, and MST3K was picked up for another 13 episodes in July 1990.
Around this time, the show was suffering from disagreements and in-fighting. Josh Weinstein left the show for a variety of reasons, which prompted Joel and Jim Mallon to attend a business therapy course. They learned to communicate better and set up some new rules. These rules included not working past 6 p.m. and not working on weekends.
The second season debuted on September 15, 1990, with Rocketship X-M, and there were more changes. The production values had improved. Servo had a new voice (Kevin Murphy replaced Josh Weinstein), there were more riffs, and the sets were redesigned. In addition, Dr. Erhardt was replaced by TV's Frank (played by Frank Conniff).
The writing also changed to a new system in which Michael J. Nelson was named head writer. The riff quantity began to pick up. They began producing more songs, and more guests would appear due to the addition of the Hexfield viewscreen on the Satellite set wall.
The season was even more well-received by fans. Critics were praising the show as well. In November 1990, HBO executives made a trek to Minnesota. They offered MST3K a 3-season contract for 24 episodes a season.
The Comedy Central Years
The third season debuted on July 1, 1991, with the episode Cave Dwellers. The show had reached its zenith, as now viewers' comments had increased to around 750 per episode. The season is well remembered for its use of Sandy Frank movies and films from the AIP catalog, as well as movies from Film Ventures. It was one of the most well-remembered seasons. Popularity was growing for MST3K. Comedy Central ran a highly-rated Thanksgiving marathon of episodes, which would become a tradition for future years.
In November 1991, the Washington Post mentioned that Joel was working with HBO Downtown Productions on an idea called The Mr. Elk and Mr. Seal Show.
The fourth season of the show was considered by many to be another high point for being a solid season and the epitome of the show. Years later, many deride it for being too esoteric and not featuring many classic episodes. However, the popularity of the show was still high. They even appeared at "Starcon '92," a large science-fiction convention.
Departure
In early 1992, BBI had discussions with Paramount Pictures (including executive Brandon Tartikoff) about creating a motion picture based on the show. The studio wanted the movie to be about the origins of the show with Joel being shot into space, while BBI wanted it to be similar to the television show. Paramount would also not give BBI creative control and wanted the option to recast anyone. Best Brains turned them down. Joel Hodgson has said he didn't want to become a "movie star."
Best Brains then presented "MST Alive" at the Uptown Theater on July 10, 1992. They lampooned the movie World Without End. It was something of an experiment to see how the premise would work in front of a large live audience. Also, ideas for a live tour were being considered.
The show was becoming very demanding for Joel. While the schedule on a day-to-day basis was light, it left little room for outside projects, as an episode took two weeks to produce. Jim Mallon wanted Joel to focus on the show that they already had. Joel and Mallon were now fighting for creative control of the show.[1]
On May 11, 1993, Comedy Central sent out a press release announcing that Joel was stepping down as host of Mystery Science Theater 3000. Accounts differ about the exact reasons for Joel's departure. Some reports claim that Joel made the decision on his own, as he was never comfortable in front of a camera. Josh Weinstein has claimed that Joel was forced away from the show by Mallon.
As the 20th anniversary box set was released, in interviews Joel explains his departure in more detail:
Hodgson left the show in 1993 after a struggle with producer Jim Mallon over a big-screen adaptation of the show. "I felt like it would split the company and ruin the show," says Hodgson, "It felt like 'Mommy and Daddy are fighting but we don't want the kids to know'. My leaving was kind of like a personal tragedy, but I felt like if I stayed and fought for creative control of the movie, it would wreck the show. So I walked away instead of letting King Solomon cut the baby in two."
"It's so fun to get to come back and to get to talk about it. And when I left it was really like kind of a personal tragedy and I felt like I wouldn't ever be able to tell my story, and so that's like the most fun part of this is getting to come back and kind of explain, you know reiterate, what happened."
The fifth and final season for Joel began airing July 17, 1993. Joel's episodes were considered strong by fans. Joel's final episode (Mitchell) was filmed in July and aired in October of that year. Though initially it was stated he would continue in an off-camera role, he took hiatus after production was completed and eventually left the show altogether.
After MST3K
Visual Story Tools
Joel and his brother Jim formed a the production company Visual Story Tools in 1995.
The TV Wheel
The first production by Visual Story Tools was the "X-Box", later renamed "The TV Wheel". It was a large set that would film shows live with no editing or post-production. The concept was a 32-foot turntable with a stationary camera in the middle. A proof-of-concept video was created, followed by a pilot for HBO taped in March of 1995, but no agreement could be made when to air the show. The pilot eventually aired on Comedy Central immediately following the Season 7 finale of MST3K. The show wasn't picked up. The proof-of-concept show, plus behind-the-scenes footage was released on VHS as X-Box R & D.
Statical Planets
In the summer of 1996, Joel began working a show with no real sets, instead utilizing environments that were projected using a process he called "Hodgson Backscreen '90." "Static-A-Matic" was another name. Joel directed and wrote Statical Planets around this idea. The movie features Joel, Frank Conniff, SNL alum Morwenna Banks, MST alum Tim Scott, Let's Bowl's Rich Kronfeld, and Nick Bakay (who had provided the voice of the cat Salem on the TV series Sabrina the Teenage Witch, on which Frank Conniff had been a staff writer). Banks and Bakay had previously appeared in The TV Wheel. The film was never released in full.
The Coloring Book
In 1999, Visual Story Tools released a coloring book via their website. It features art showcasing Joel and Jim's entire careers up until that time.
Other Projects
After leaving MST3K, Joel's first post-MST3K project was as a consultant/staff writer for comedian Paula Poundstone's primetime sketch comedy show, which was canceled after two episodes.
Joel wrote an episode of Space Ghost Coast to Coast and later made a guest appearance on the show. He was also the "magic consultant" on Sabrina, The Teenage Witch (on which Frank Conniff was a writer).
Joel had a recurring role on the critically praised Freaks and Geeks as a disco-loving clothing store owner. The show also featured Trace Beaulieu in a recurring role as a teacher.
Joel worked as a script doctor on several films, including 1997's George of the Jungle. He co-wrote the direct-to-video film Honey, We Shrunk Ourselves in 1997 and was involved with the creation of Robot Wars. He worked with Penn Jillette and Teller on occasion.
Joel also did work on the game show You Don't Know Jack and worked on Jimmy Kimmel Live as a producer, writer, and effects director. Joel and his brother Jim were the executive producers on The Discovery Channel's Everything You Need to Know and Joel voices the sleazy town mayor on the Cartoon Network cartoon Steven Universe.
In 2015, Joel co-starred as Zalian Fletcher in the webseries Other Space which was available to view on Yahoo Screen. This role reunited him with Trace Beaulieu who provided the voice of Zalian's robot companion Art.
Return to MST3K
Joel first return to MST3K was during Experiment #1001 Soultaker, with Joel Robinson returning to the SOL, although he was not involved in any theater segments.
Joel's next return was in a special feature on the DVD release of The Giant Gila Monster. This new "host segment" instructed viewers on how to dispose of their Godzilla vs. Megalon DVD in the boxed set and replace it with The Giant Gila Monster. Joel appeared in character with Crow and Tom Servo opposite Trace and Frank as Dr. Forrester and TV's Frank. Sets for the SOL and Deep 13 were created via green screen.
In 2013, Joel hosted the 6-episode online Turkey Day '13 marathon, which featured episodes that he selected based on fan's suggestions from Twitter. Joel did not appear in character. The positive response to the 2013 Turkey Day marathon resulted in a new marathon every following year, each hosted or co-hosted by Joel, starting with Turkey Day '14 featuring Trace Beaulieu and Josh Weinstein voicing Crow and Tom Servo, respectively.
MST3K revival
In 2015, Joel created a Kickstarter campaign to raise money to make new MST3K episodes. Inspired by the success of similar projects for Veronica Mars, Reading Rainbow and Super Troopers, he was able to create the project once the legal rights to the show were available again.[2] The fundraising was successful and pre-production on the new season began on January 4, 2016.
The revived show aired on Netflix and two seasons were produced. Season 11 ("The Return") launched in 2017 and Season 12 ("The Gauntlet") in 2018.
In the revival, as well as serving as overall showrunner and co-director, Joel appears on camera as Ardy and other characters.
MST3K Live
For the Mystery Science Theater 3000 Live - 30th Anniversary Tour, Joel returned to the character of Joel Robinson. Joel played Robinson again (reportedly for the last time on tour) in the Cheesy Movie Circus Tour in 2019 and 2020.
Personal life
Hodgson has been married to Tiffany Hodgson since 1996. They have two children.[3]
Personal quotes
"I was a TV junkie as a kid. This was when there were three channels, so I'd watch the farm report or this terrible polka show called Dairyland Jubilee. If I happened to run into a Godzilla movie—or a monster movie of any kind—it was like hitting the lottery. Sometime around seventh grade, I got into ventriloquism and magic. There were these amazing magic catalogs where you could find any trick that you would see a magician do on TV. But because my parents were really big do-it-yourselfers, I started learning to build my own stuff, like magic tables and tricks. Through high school I figured I'd be a comic magician. I thought I'd work on a cruise ship."
"It was right when stand-ups were becoming famous. If you had chops and were original, you could move really quickly. I got on Letterman within maybe four months of relocating to LA. Then I got on HBO's [1983] Young Comedians special and was a guest on Saturday Night Live."
"Eventually I got asked to be in a Michael J. Fox sitcom called High School U.S.A. I didn't think it was funny and said no. They doubled the money, and that kind of offended me. I realized, oh, that's right, my opinion means nothing in Hollywood. I'd seen other people compromise, and I felt that once you gave up on what you wanted to do, you couldn't go back. It was selling out. So I decided to go back to Minneapolis."
"I had money in the bank from stand-up, and I was living off that. And I found I had more ideas when I was bored, so I got a job in a T-shirt factory putting appliqués on T-shirts. I also started collaging these robots out of objects I found at the Salvation Army. That's what I was doing when I met Jim Mallon."
"It was an idea I'd had tucked away in the back of my mind since high school: On Elton John's Goodbye Yellow Brick Road album, there are illustrations in the liner notes. And for the song "I've Seen That Movie Too," it's got little silhouettes watching a movie. I remember going, "Someone should do a show like that. Run a movie and have these people in silhouettes say stuff.""
"The movie in the pilot is The Green Slime, which was perfect for Mystery Science Theater: It has big, goofy monsters, guys in suits, and serious people trying to put across real emotion in an absurd situation."
"Jim Mallon had the presence of mind to go to the station and make sure we had the rights to the show. He then said to me, "The only logical thing is for us to be 50-50 partners, so we're not working for each other." And I shook his hand and said, "I'll run the creative; you run the business and the technical.""
"We weren't very strict about who we hired. They weren't prebuilt writers, and that's probably a good thing."
"Film distributors would do this trick where they'd license you several movies. Half of them might be movies you'd heard of, and half were the movies we actually wanted, the B movies. We didn't want the cocaine—we wanted the baby laxative they put in the cocaine."
"There was so much space in these movies to make jokes. And that allowed us to explore really deep references that were amusing to us."
"I was fighting with Jim Mallon. We had decided, oh, let's be like Star Trek: The Next Generation and do a movie. Instead of 22 movies a year, we'll do one really good one and be rich and famous. And that's when Jim said, "OK, well, I'm the producer and I'm the director." And I just felt like that didn't acknowledge my position. I'm like, I created this. Where's my acknowledgment? I felt that was kind of a power grab on his part. We were an ensemble. We did everything as a group. So that's when I kind of said, "If you direct this, I'm leaving." And it all fell apart after that."
"I wasn't the kind of person who would have done a bad sitcom, and I also wasn't the kind of person who would have done a crap version of the movie. I knew it was wrong. And I decided to walk away."
"When they told me, my only objection was that he was kind of like me—a white doughy guy from the Midwest. But it worked out great. They stuck with the formula really closely. I think they did a really good job."
"Mystery Science Theater wasn't considered a real show when we started. But it makes more sense now. Tweets are a lot like riffs to me."
"I've talked to a bunch of fans about their lives and what MST3K means to them. I'm overwhelmed by how people took to that show. It really affected them. I thought, if enough people still love it, maybe we can bring it back."
"Even avid viewers sometimes don't realize that every major role in the show had been swapped out over time. So in my mind, the show is built to be refreshed with new people and new ideas. It's like Heisenberg's uncertainty principle as it applies to MST3K: If it doesn't change, it's not the same show. And fortunately for us, as long as there are movies, there are always going to be cheesy movies."
(on the transition from MST3K to Cinematic Titanic and Mike's RiffTrax) "Well, when we started we were really interested in doing very quirky movies, and [RiffTrax] were doing big movies. They did "Lord of the Rings," and any big blockbuster that came out. It seemed really clear that we're working this side of the street with old movies and they're working new movies. But that's getting kind of muddled now because they're coming back and doing old movies. Like we did in "Mystery Science Theater." [1]
"Back then we did 20 shows, and we just improvised. It was unheard of back then to make a show where you just kind of talk over a movie. Prior to that there had been people who re-synched, added sound, redone the dialogue on movies, but this was really different so it grew very organically. By the end of it we kind of had it figured out. If we didn't have that, I can't imagine just walking in and trying to pitch this idea to anybody."
"We had a thousand people in a fan club, so we had this kind of packet that we could lay down when we went to the Comedy Channel. And we said, "Hey, this is happening," and they just happened to need content. So it was just 'cause it was the beginning of basic cable and they needed to fill time more than anything."
(on the difference between a geek and a nerd) "To me, for geeks there's an extra level of involvement for whatever it is they're focused on. A geek kind of implies a specificity of interest for whatever it is they're geeking out about."
(on what he remembers most about the show during its initial heyday) "It was a great job because really we just hung out, watched bad movies all day and said stuff, and had somebody there with a computer recording everything and putting it to time code. That was the secret of it — we had all this material, every movie had like 700 or 800 riffs and there wasn't any way when we started to create a script that would be a normal script but also have 700 riffs in it. We had to figure that out, but that's what allowed us to make the show. We were able to use a Mac and write everything down and record it and attach it to the movie via time code." [2]
"We started out riffing the movies in real time, like improvising. When we got paid to do it, I just decided we had to start writing them. It was going to be a national show and my friends were going to see it. It wasn't going to be a local show in Minneapolis. We would take about a week when we started to write them, and pretty soon within the first season, it took us about five days, and there were between six and eight of us writing these shows. It was a pretty quick turnaround, and since nobody had ever movie riffed before as a TV show, we didn't have anything to compare it to. We just did as much as we could and then moved on. There was nothing prior to help us go, "Oh, we're shooting for that." It was this new land that we had found." [3]
"The weird thing about it that I think is interesting is that before movie riffing, there were three flavors of comedy: sketch, like on Saturday Night Live or SCTV; there was standup; and there were sitcoms. We didn't do any of those things. When we started, it wasn't like they treated us like a real show. It was like sitting at the little kids table at Thanksgiving: "Oh yeah, that's cute. I get it, you're in theater seats and saying smart things." It wasn't like real comedy people when it started. I have to say, it really all changed when the show was done and there were almost 200 episodes. And then with the Internet, people found it. People talk about binge-watching — I don't even know what you'd call Mystery Science Theater. It's crazy. But if you like it, there's a lot you can binge on." [4]
"(Laughs) What was going on with syndicated TV was all these guys who were producers and distributors of these B-movies, they basically created movie packages they were licensing to all these local TV channels. When you're a little local TV channel like KTMA, when you bought a movie package, half the movies you had heard of or were good movies, and the other half were these B-movies. Every little TV channel had these movies and they could run them because the next movie was going to be good — and by good movie I mean like Tarzan or something like that. We just started to get the movies out of the archive at KTMA that were already licensed as part of a movie package. Those first 22 episodes were just what was there, and when we went to Comedy Channel, HBO/Downtown Productions were the ones who would get rights to a movie. They would send us big boxes of VHS tapes, and (co-star) Fred Conniff, he loves movies more than anybody, he would watch every movie and pick his favorites. During lunch, we'd just watch them and pick out the movies we thought would work well. It wasn't that hard. In some ways, the distributors were kind of shocked. We were going, "We don't want to pay for these good movies. We just want the crap movies." That was very disorienting to them, like if you're buying cocaine from a dealer and just said, "No, We just want the baby powder instead of the cocaine. Just whatever it is you're filling your cocaine with, we want that."" [5]
(on whether he heard from any of the movie stars who's films they riffed on) "I remember Beverly Garland, a really famous actor who was in a bunch of our movies, and I think she kinda liked it. She was in It Conquered the World and Gunslinger. She also went on to be the mom in My Three Sons. Actors love attention, and my impression from her was these were just things she did for a paycheck a long time ago, for five or six days of her life. She was in good movies, and she was in really terrible movies. Actors really understand the reality of that more than anybody. This is probably getting a little too theoretical, but movies back then were so sacred. Movies are something you should be impressed with, movies are magic and they're big and they come into theaters and they come on TV and you should be really impressed all the time. We messed with that a little bit and disrupted that, but really at the end of the day all the people making them kinda go, "Yeah, you know, a friend of ours was doing a movie and he wanted us to be in it and we made $600 that week." They have a clear impression of what that means." [6]
(on which recent film release he'd like to riff with Crow T. Robot, Tom Servo and the entire gang) "There are some movies you just know are going to be crazy. Olympus Has Fallen was one that I thought would be pretty awesome. The truth is, I don't really think of it like that. Movie riffing isn't about serving justice on a bad movie. It's really just collaborating with a movie to make entertainment. It isn't about saying, "You, sir, just wasted $120 million by not making a good movie, and because of that I'm going to riff you." That's kind of the coloring-book version of what we do. It's really just, "Hey, we just want to hang out with you. You're like Margaret Dumont, and we're going to be the Marx Brothers." Everyone looked at Margaret Dumont and believed she didn't know she was in a funny movie. It just shows you what a genius she was. I'm like everybody else — when I'm in a movie theater, I'm relaxing and hoping for what everybody hopes for when they watch a movie: that it'll take you into it. I compare it to a magic show. A really good magic show is amazing, but a bad magic show is even better." [7]
"It was never clear to me when I was working on the show what was a great episode and what wasn't. Each MST3K is so epic—there are like 800 riffs in every show. So it's really like a message in a bottle. They all go out and then certain ones come back." [8]
(on his personal favorite episodes) "For the Mike episodes, I loved The Final Sacrifice. I think that's super strong. For my episodes, I like different ones for different reasons. But the one that I think is really strong because it's a really unusual movie is I Accuse My Parents. It's also got a short that's really insane called Hired. It's this really epic, two-part training film for salesmen I think for Chevrolets. And it's when the auto industry is at the height of its powers and could make these Hollywood-grade productions. It gets into the guy's life and what he's dealing with at home and his mom and his dad and it's really funny. Those two together work really well." [9]
(On preferring to write and create as opposed to act) "Umm... Yeah. That's always been really confusing for people. I did it on Mystery Science Theater just because I was the logical guy to do it. I'd been on Letterman and Saturday Night Live, but I'd really stopped performing. And so I was kind of reluctant, but I knew I would be the easiest sell in the event that somebody wanted to pick up the show. But once it got so popular and the movie was on the horizon, I started to go, "You know, I just don't... I don't really... I didn't really have that in mind, to be a movie actor." 'Cause, if you notice, I'm not really an actor. I just do this guy. Like, even when I went back and did the season opener on the Sci-Fi channel last weekend [April 11], people were going, "You looked kind of uncomfortable." And I was. I never had to act with another person. I was on the set with Mike [Nelson], and I was going, "I've never done this with another person in the room. It's only been robots." There was never anybody else in there. I can't really do it. I don't think I'm an actor. That's really not what I want to do. I don't think I could be on camera." [10]
(On returning to the show in a 1999 guest appearance) "Yeah, it was really strange. In some regards, it didn't feel like any time had gone by once we were shooting it. But it just seemed smaller than I remembered it, and I also kept thinking about what kind of person I would be if I would have stayed.
" [11]
(On how MST3K changed the trend in which people watch movies and TV) "I think so. We're kind of coming out of this trend, but I have to say I noticed a lot of arcane references in a lot of different TV shows where they really didn't belong. I think that became a style for a while, to be really eclectic. And Mystery Science Theater worked because it wasn't the emphasis of what was going on. We were just these voices saying stuff. I think people got into that for some reason. I'm kind of glad it's over now, because I'm tired of it. I just burned out on it. Now, I'm much more into much more direct, more simple things, I think. It was always fun to hear that the vice president watches Mystery Science Theater, and that Spielberg watches it. Bill Gates watches it. It's true. I met him one day and he said, "Me and my friend used to watch the show all the time. We laughed so hard." You just go, "Oh, that's cool."" [12]
References
External links