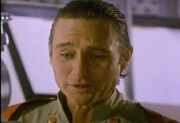 John Phillip Law (1937-2008) was an Australian actor best known for starring in serious war dramas like Breaker Morant and Attack Force Z, as well as cult classics including Barbarella, Tarzan the Ape Man (with Miles O'Keeffe), and the Spaghetti Western Death Rides a Horse (with Lee Van Cleef).
Law was a villain in Experiment #820 Space Mutiny, and he played the title character in Experiment #1013 Diabolik.
Law passed away at the age of 70 in 2008.