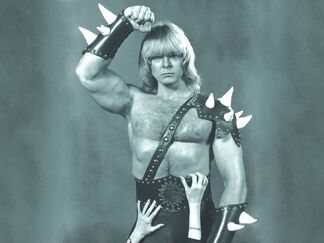 Jon Mikl Thor (born 1953), better known as Thor, is a bodybuilding champion, actor, songwriter, screenwriter, historian, vocalist and musician.
As a bodybuilder, he was the first Canadian to win both the Mr. Canada and Mr. USA titles. During his bodybuilding career, he has achieved over 40 titles around the world. As a musician, he is the front man for the heavy metal band Thor, billing himself as "The Legendary Rock Warrior". He has also has had career in acting appearing in such films as Recruits (1986), Rock 'n' Roll Nightmare (1987) and FUBAR (2002).
Riffed Movies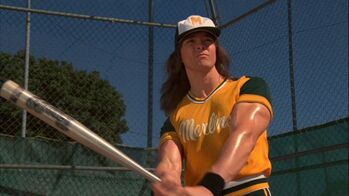 Filmography
Recruits (1986, as Thunderhead)
Rock 'n' Roll Nightmare (1987, as John Triton)
Zombie Nightmare (1987, as Tony Washington)
Graveyard (2003, short film, as Ray)
Murder at the Presidio (2005, as Thor)
Intercessor: Another Rock 'n' Roll Nightmare (2005, as The Intercessor)
A Family Lost (2007, as Gary)
Thor – The Rock Opera (2011)
I Am Thor (2015, as himself)
Discography
Thor and the Imps
Thor
Thor-Body Rock (1973)
Keep the Dogs Away (1977, 30th anniversary re-release 2009)
Gladiator (1979)
Striking Viking (1980)
Unchained (1983, EP, re-released in 2009 & 2014)
Only the Strong (1985, re-released as Deluxe CD/DVD Edition in 2015)
Live in Detroit (1985, re-release 2009)
Recruits - Wild in the Streets (1986)
The Edge of Hell (1986) (credited as Tritonz)
Ride of the Chariots (1997)
Thunderstruck: Tales from the Equinox (1998)
Dogz II (2000)
Triumphant (2002)
Mutant (2003)
Beastwomen from the Center of the Earth (2004)
Thor Against the World (2005)
Devastation of Musculation (2006)
Into the Noise (2008)
Steam Clock (2009)
Sign of the V (2009)
The Guardian (2010)
Thor – The Rock Opera Soundtrack (2011)
Thor – Thunderstryke (2012)
Thor – Thunderstryke II (2013)
Aristocrat of Victory (2013)
Only The Strong reissue (2014)
Unchained reissue (2015)
Metal Avenger (2015)
Tritonz
The Edge of Hell (1987)
Rock 'n' Roll Nightmare (2006)
Thor & the Ass Boys
Community content is available under
CC-BY-SA
unless otherwise noted.