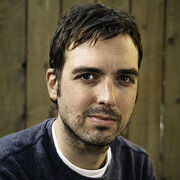 Jonah Ray (born Jonah Ray Rodriguez in Honolulu, HI, 1982) is an American comedian, writer and actor. Jonah is known for being a staple of the Los Angeles "alt" comedy scene. He has been the long-time co-host of a weekly live show at the Nerdmelt Theater called "The Meltdown with Kumail and Jonah", which was later adapted into a TV series for Comedy Central.
Jonah has also served as co-host of the popular Nerdist podcast (along with comedians Chris Hardwick and Matt Mira), in which capacity he interviewed some of the original cast of Mystery Science Theater 3000.
In November of 2015, Mr. Ray was announced as one of the stars of the crowd-funded revival of MST3k, playing the role of Jonah Heston. He also appeared briefly during Turkey Day '15, introducing the episode Danger!! Death Ray.
Jonah co-hosted the online Turkey Day '16 Marathon with Joel Hodgson, as well as the subsequent Turkey Day marathons. Prior to its debut, Jonah promoted the new series in several media outlets including podcasts. On an episode of the podcast SklarBro Country, Jonah explicitly stated that the new series is a continuation, not a reboot (he referred to it as "Season 11").
Since 2013, Jonah has been married to Deanna Rooney.