For the MST3K episode, see MST3K 615 - Kitten with a Whip.
Kitten with a Whip is a 1964 crime drama film directed by Douglas Heyes and co-written by Heyes and Whit Masterson.
Plot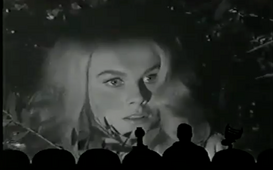 Straight-laced politician David Stratton (John Forsythe) arrives at his home in San Diego and is shocked to discover Jody - a beautiful young woman who he does not know - has taken up residence. Stratton's wife is away visiting relatives in San Francisco, and he agrees to help Jody after she tells him about the hardship in her life.
After giving Jody some money, buying her new clothes, and sending her on her way, David is shocked to learn that she is a recent escapee from a juvenile detention home, where she stabbed a matron and started a fire. Jody returns to David's home, where she is soon joined by two young male associates, Ron and Buck. They torment David, who is afraid of a public scandal that could end his career.
Jody and her friends enjoy a wild party. They later begin to quarrel, resulting in Ron being seriously wounded with a straight razor. They drive across the Mexico border to seek medical attention, taking David along.
Jody and David elude Ron and Buck and hide themselves in a Tijuana motel. When Ron and Buck find them, David and Jody flee in a car, and a high-speed chase ensues. Ron and Buck's car crashes and they are both killed. Jody is seriously injured, and she absolves David of any wrongdoing before she dies.
Cast
Ann-Margret as Jody Dvorak
John Forsythe as David Stratton
Peter Brown as Ron
Patricia Barry as Vera
Richard Anderson as Grant
Skip Ward as Buck Vogel
Diane Sayer as Midge

Ann Doran

as Mavis Varden
Patrick Whyte as Philip Varden
Doodles Weaver as Salty Sam
Notes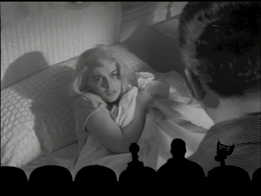 The film is based on a 1959 novel by Bob Wade and Bill Miller, under their joint pen name "Wade Miller".
In her autobiography Ann-Margret, My Story, Ann-Margret says that her "gritty and intense" performance in this movie tarnished her image with fans who wanted her to remain an innocent sweetheart. Despite "atrocious reviews", the movie did well at the box office and also impressed director Mike Nichols, who cast Ann-Margret in his film Carnal Knowledge several years later.
Brigitte Bardot was originally offered the role of Jody, but turned it down.
The interior of the Mexican motel is the same set as the Bates Motel from Psycho.
This film recycles portions of Henry Mancini's music from Touch of Evil (1958).
The cartoon playing on the TV when David discovers that Jody has returned to his home is the 1951 Warner Brothers short Canned Feud directed by Friz Freleng.
Gallery
References