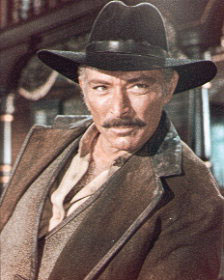 Born Clarence Leroy Van Cleef Jr., Lee Van Cleef (January 9, 1925 – December 16, 1989) was an American film actor who appeared mostly in Western and action pictures. His sharp features and piercing eyes made him an ideal "bad guy," though he was occasionally cast in a hero's role.
Van Cleef was born in Somerville, New Jersey, to Marion Lavinia Van Fleet and Clarence Leroy Van Cleef Sr. Van Cleef served in the United States Navy during World War II and became an actor after a brief career as an accountant.
His first film was the classic Western High Noon, in which he played a villain. He also had a bit part as the sharpshooter in the climax of The Beast from 20,000 Fathoms around the same time. Van Cleef played different minor characters on four episodes of the TV series The Rifleman between 1959 and 1962. He played one of Lee Marvin's villainous henchmen in the 1962 John Ford classic The Man Who Shot Liberty Valance with James Stewart and John Wayne. He had a small uncredited role as one of the river pirates in 1962's How the West Was Won (again with Stewart and Wayne and also with Henry Fonda).
Van Cleef appeared in several spaghetti westerns, including For a Few Dollars More and The Good, the Bad, and the Ugly (both co-starring Clint Eastwood and Frank Brana), as well as The Big Gundown and The Sabata Trilogy. Van Cleef also had a supporting role in John Carpenter's cult hit Escape from New York (with Donald Pleasence). He also appeared as a villainous swindler in the Bonanza episode "The Bloodline" (December 31, 1960), along with over 90 movie roles and 109 other television appearances over a 38-year span.
In the early 1980s he played John Peter McCallister, the "first Occidental to become a ninja," in NBC's The Master. His last television appearance was in 1984 when he left the show. Episodes of the show were later re-marketed as made-for-TV movies (by editing two episodes together), two of which were featured on Mystery Science Theater 3000.
Van Cleef died from a heart attack in Oxnard, California, and is interred in Forest Lawn - Hollywood Hills Cemetery in Los Angeles.
Trivia
He lost the tip of the middle finger on his right hand while building a playhouse for his daughter. This can be seen in the close-up shots of his hand during the gunfights in The Good, the Bad, and the Ugly.[1]
Quotes
"Being born with a pair of beady eyes was the best thing that ever happened to me."[2]
Riffed Movies
Gallery
Sources
Community content is available under
CC-BY-SA
unless otherwise noted.