WE'VE GOT SPOILER SIGN!
This article reveals information of a spoiler-ish nature concerning recent or upcoming events.
If there is *anything* MST-related to which you do not wish to be spoiled, read no further.

Please leave in place. An admin will remove it at the appropriate time.
"
In the not-too-distant future – tomorrow, AD – Mystery Science Theater 3000 returns to Kickstarter to start its next chapter.
"
 
— Joel Hodgson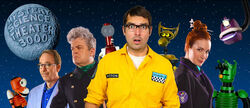 Let's Make More MST3K & Build THE GIZMOPLEX! (originally listed as MST3K: The Next Chapter) was a Kickstarter campaign announced by Joel Hodgson on April 6, 2021[1] via an update to his previous Kickstarter, the Bring Back MYSTERY SCIENCE THEATER 3000 campaign. It ended on May 8, 2021, with a total of $6,519,019 contributed to the project.
Goals
The primary goal of the campaign was to build an infrastructure to allow Mystery Science Theater 3000 episodes to be created without the need of the backing of any kind of network or outside streaming service. The centerpiece of this plan is the Gizmoplex, essentially an MST3K streaming service where the new episodes can air along with specials, live events and shorts.
The initial campaign goals were as follows:
Livestream Events
To promote the Kickstarter, several livestream events were scheduled. The first of these took place on April 26. Joel then announced subsequent streams including special guests, announcements and events. The full schedule was as follows:
| | | | |
| --- | --- | --- | --- |
| Livestream | Air date | Episode / Event | Featuring |
| I | April 26 | Experiment #907 - Hobgoblins | Joel Hodgson, Emily Marsh, Conor McGiffin, Nate Begle, Yvonne Freese, Matt McGinnis |
| II | April 29 | Experiment #112 - Untamed Youth | Joel Hodgson, J. Elvis Weinstein, Baron Vaughn, Tim Ryder, Conor McGiffin, Matt McGinnis |
| III | April 30 | Experiment #913 - Quest of the Delta Knights | Joel Hodgson, Mary Jo Pehl, Felicia Day, Rebecca Hanson, Yvonne Freese, Matt McGinnis, Beez McKeever |
| IV | May 1 | Experiment #312 - Gamera vs Guiron | Matt McGinnis, Jonah Ray, Nate Begle, Hampton Yount, Conor McGiffin |
| (non-numbered) | Monday May 3 | The Jackbox Showdown! | Team Jonah vs. Team Emily in three rounds of online games |
| V | Tuesday May 4 | Experiment #904 - Werewolf | Joel Hodgson, Matt McGinnis, Bill Corbett, Nate Begle, Hampton Yount, Jonah Ray |
| VI | Wednesday May 5 | Experiment #604 - Zombie Nightmare | Matt McGinnis, Jonah Ray, Hampton Yount, Baron Vaughn, Rebecca Hanson, Frank Dietz |
| (non-numbered) | Friday May 7 | The Final Countdown, Part II | Similar to The Final Countdown event from the Bring Back MST3K campaign |
Season 13
Several pieces of information about the now-funded Season 13 have been announced by the campaign so far:
Jonah Heston, Kinga Forrester, Max, Tom Servo, Crow T. Robot, Gypsy/GPC, M. Waverly and Growler can be expected to return, along with the performers from the previous two seasons.
Joel will host two of the new episodes as Joel Robinson, as well as a holiday special with Jonah and Emily, since the four original tiers were unlocked.
Mary Jo Pehl is planned to appear as Pearl Forrester in some capacity, as well as joining the writing staff. J. Elvis Weinstein is also planned to write and appear as Dr. Laurence Erhardt.
While the campaign was active, Jonah Ray was a guest on the podcast Dumb People Town, hosted by the Sklar brothers (from Cheap Seats). During the episode, Jonah indicated that Josh Weinstein and Bill Corbett would return to voice Tom and Crow for the two new episodes hosted by Joel (as they had done for the MIGIZI shorts in 2020). This has not yet been confirmed.

Corbett later confirmed in an AMA on Reddit that he would not be returning as Crow. [3]

Joel has stated that other previous cast members would be welcome to appear on the new series if they are interested and their schedules allow. He also acknowledged that many former cast members are involved in their own riffing projects (and other endeavors), and he urged fans not to pester them about returning to MST3K.
Episodes will be released as they are completed, instead of in a "season dump" as they were for Netflix during Seasons 11 and 12.
The season is planned to include the show's first Halloween special, which will also feature its first 3D movie.
The season will premiere as soon as possible, perhaps as early as fall of 2021.
Three movies have been announced that are planned to be used during Season 13: Robot Wars (1993) and Demon Squad (2019) were revealed before the campaign ended, while Gamera vs. Jiger (1970) was revealed in a post-Kickstarter update (Gamera vs. Jiger was meant to be revealed in The Final Countdown Part II Stream, but was skipped over by accident). Joel has stated he intends for Gamera vs. Jiger to be the first episode of Season 13, and the premiere of the Gizmoplex.
Though not yet officially announced, the October 1 update indicates that one of the movies for Season 13 is Beyond Atlantis (1973). In the third photo, one of the props is a SAT Study Guide: 70s Dirtbag Edition. The cover illustration exactly matches a screenshot of Sid Haig in that movie, which can be seen at its IMDB photo gallery.
Cover images
As the campaign progressed, Joel updated the page's cover image to show additional cast members and the percentage of the overall $5.5MM goal. This is a gallery of those cover images.
External links
References