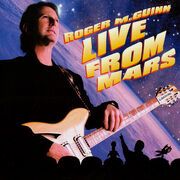 Live from Mars is a live album by Roger McGuinn released on November 19, 1996. It features live versions of songs from throughout McGuinn's career, two new studio tracks and liner notes by Tom Servo.[1]
McGuinn, a fan of the show, received permission from Best Brains to use the shadowrama on the cover of this album.
Tracklist
"Heartbreak Hotel"
"Daddy Roll 'Em"
"Gate of Horn"
"Bells of Rhymney"
"Turn! Turn! Turn!"
"Beach Ball"
"Wild Mountain Thyme"
"You Showed Me"
"Mr. Tambourine Man" (acoustic)
"Mr. Tambourine Man" (electric)
"Mr. Spaceman"
"Eight Miles High"
"So You Want to Be a Rock 'n' Roll Star"
"King of the Hill"
"May the Road Rise"
"Fireworks"
"May the Road Rise"
References
Community content is available under
CC-BY-SA
unless otherwise noted.