The Mads (Trace Beaulieu and Frank Conniff) riff a film directed by Edward D. Wood Jr. The livestream duplicates many of the jokes from their live performances. Without the restrictions of television standards and practices, the content sometimes includes coarse language and pointed social/political commentary.
The Movie
Synopsis
Main article: Glen or Glenda (film)
Glen, a closet transvestite, finds his proclivities to be a stumbling block to his engagement to Barbara. Also, a pseudo-hermaphrodite named Alan uses surgery and hormone treatments to transition to live as a woman named Ann.
The Show
Callbacks
Bela Lugosi: "Pull the string!" Trace Beaulieu: "'Pull the string' was the 'Push the button' of its day."
(Over a shot of a water cooler) "Tom Servo!"
Running Jokes
Repeated reference is made to the headline "Traffic Toll at New High" from the prop newspaper.
Multiple observations of the presence of a particular corner bookshelf in several different settings.
The Mads identify several of the riffs as "dad jokes", acknowledging that they are corny or obvious.
Several references are made to the COVID-19 pandemic, such as use of the phrase "social distancing" and wearing masks.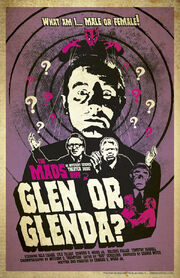 Quotes & References
"Are we gonna be understanding comics, 'cause of Scott McCloud?"
Understanding Comics is a 1993 non-fiction book intended to help readers understand the history and nature of sequential art, both in terms of how to create it and ways to appreciate it. It was written by Scott McCloud, a cartoonist and analyst, who is not the same person as the credited Unit Director of Glen or Glenda?.
"Aw, 50 Shades of Grey sucks."
50 Shades of a Grey is an erotic novel by E.L. James. It deals with themes of bondage and submission. It was unexpectedly popular with mainstream audiences, prompting two sequels and a film franchise.
"This is my Breaking Bad audition tape. I call it 'Breaking Bela'."
Breaking Bad was a critically-acclaimed TV drama about a otherwise-ethical high school science teacher who is diagnosed with cancer and begins producing illegal drugs to pay for his treatments and provide for his family.
"Hey, look on the table! It's Keith Richards!"
Keith Richards is the long-time guitarist for the rock band The Rolling Stones. His history of narcotics use is well-known, as is his notoriously slender (bordering on skeletal) physique.
"He's watching the TV Guide Channel!"
The TV Guide Channel is a channel included with some television cable packages. It provides TV listings on the bottom third of the screen, while showing promotional material and some original content on the upper two-thirds.
"One is wrong, because he does right..." "Captain America?" "One is right, because he does wrong." "Iron Man?"
Captain America and Iron Man are popular superheroes in the universe of Marvel Comics and the associated film franchise. In the "Civil War" storyline, the two characters had a public clash over what role superheroes should play in society. Iron Man (the pragmatist) gained widespread support while Captain America (the moral absolutist) was dubbed a dissident and a threat.
"Now let's cut to Mother, Jugs & Speed for no reason."
Mother, Jugs & Speed is a 1976 comedy film about rival ambulance companies. It inspired a short-lived TV series.
"A J.K. Rowling nightmare!"
J.K. Rowling is the author of the extremely successful Harry Potter series of novels. Around the time of the livestream broadcast, she had made some controversial statements that seemed to indicate her disapproval of transgender people.
"You know, Olive Oyl actually got a lot of voiceover work back then."
The female narration sounds a bit like the early animated cartoon voice of the character Olive Oyl, who is the love interest of Popeye the Sailor Man in comics and other media.
"Make America Great Again!"
This was the slogan for Donald Trump's successful 2016 Presidential campaign. He was more popular in rural areas than in most big cities.
"Even Joe Besser has problems!"
Bald, heavyset character actor Joe Besser is known for playing the obnoxious "child" called Stinky on The Abbott & Costello Show. He was also a member of the Three Stooges for a short time, and voiced the apprentice genie Babu on the animated TV show Jeannie (and some other productions).
"How Donald Trump sees the world!"
Former US President Donald Trump has frequently been accused of making inappropriate sexual advances towards women. During the 2016 Presidential campaign, an audio recording surfaced in which Trump seemed to brag about having done so.
"Then he won the Jean Hersholt Humanitarian Award!"
The Jean Hersholt Humanitarian Award is an honorary award given by the Academy of Motion Picture Arts & Sciences, also known as the Oscars. It is given to people working in the film industry who also make a significant contribution to humanitarian causes. A joke is sometimes made that it is the only hope that some actors have of ever winning an Oscar.
Trace is mimicking the vocal style of the members of the Monty Python comedy troupe when they (men) would dress as dowdy housewives.
"Who hung the pictures in this room? Wilt Chamberlain?"
Wilt Chamberlain was an uncommonly tall professional basketball player.
"Welcome to the inside of Mike Pence's head."
Mike Pence is the former Governor of Indiana and the former Vice President of the United States under Donald Trump. Pence is a vocal Christian conservative and has condemned homosexual behavior as deviant. Some critics have speculated that Pence may be overcompensating for some proclivities that he himself holds but does not want to acknowledge.
"The only thing we do with our steel mills now is melt down robots from the future."
At the conclusion of the film Terminator 2: Judgement Day, two killer robots who have traveled back in time from the future are destroyed in a steel mill.
"It's not like you turn into the freakin' Hulk."
The Hulk (also known as The Incredible Hulk) is a Marvel Comics character. Scientist Bruce Banner can transform into The Hulk, a giant indestructible humanoid creature with unmatched strength. At various times throughout the character's history, this transformation has been involuntary and triggered by different causes (e.g. nightfall, anger, stress).
"-When RuPaul's Drag Race came on, and that was it!"
RuPaul's Drag Race is a reality/competition TV show hosted by well-known drag performer RuPaul in which drag queens test their skills against each other. The show sometimes features celebrity judges, including Elvira, Mistress of the Dark.
"I used to dress like Big Bird."
Big Bird is a 8'2" tall canary on the children's TV program Sesame Street.
A line often spoken by various members of the Three Stooges. The woman in the scene here has a haircut that makes her resemble lead stooge Moe Howard.
"Shecky Greene: Marriage Counselor."
Shecky Greene is an American nightclub comedian who became popular in Las Vegas in the 1950s. He is known for his slightly doughy physique, avuncular demeanor, and traditional "set-up/punchline" style of comedy.
Laura Petrie was the stylish housewife played by Mary Tyler Moore on the TV sitcom The Dick Van Dyke Show.
"When I want to get in the mood, I like to listen to 'Yakety Sax'."
"Yakety Sax" is a fast-paced, saxophone-heavy jazz tune that was played over the end of the madcap sketch comedy TV series The Benny Hill Show.
"We now return to A Very Bettie Page Christmas."
Bettie Page was a dark-haired pin-up model who often posed in bondage scenarios.
"What Buddy Rich jacks off to."
Buddy Rich was a famous (and notoriously temperamental) jazz drummer.
"Uh, excuse me, Ma'am? Ikea is closing."
Ikea is a chain of furniture stores. A majority of their items are designed to be assembled by the purchaser, but they have large floor displays that show each piece in a simulated home environment.
"It's The Schmenge Brothers Porno Christmas Special!"
The Schmenge Brothers were characters on the Canadian sketch comedy TV show SCTV. Immigrants from the fictional European country of Leutonia, they were successful polka musicians.
"This music is from The Brothers Karamazov After Dark."
The Brothers Karamazov is a highly-regarded work by the Russian novelist Fyodor Dostoevsky. Playboy After Dark (1969-70) was a syndicated late-night TV series in which Playboy Magazine publisher Hugh Hefner would be joined by cultural figures in a cocktail party setting.
"The Catch A Predator: The Lost Episodes."
To Catch A Predator was a segment of the TV news magazine program Dateline in which unsuspecting "predators" (typically adult men) would be lured into a situation where they expected to meet (and potentially engage in sexual activity) with people (typically criminally-underage girls) with whom they had been communicating online. "The Lost Episodes" was sometimes used to brand material from a TV series that had not previously been available in syndication (such as the Honeymooners segments of The Jackie Gleason Show).
"This music is from Fiddler on the Roofie."
Fiddler on the Roof is a popular stage musical about the Jewish residents of a small European village. "Roofie" is a general term for a drug or chemical that is introduced to an unsuspecting person's drink which causes them to lose consciousness and their memory of events (with the intention that they can then be sexually assaulted). "Roofies" are more colloquially known as "date-rape drugs".
"It's another Fox News hiring session."
Fox News is a right-leaning cable news channel. Some of its executives and on-air personalities have faced credible accusations of sexual misconduct from female co-workers (which became the premise of the film Bombshell).
"Let's add back all the stuff that was cut. This is like this movie's French Plantation sequence."
In 2001, director Francis Ford Coppola released a re-edited version of his film Apocalypse Now entitled Apocalypse Now Redux. It included a significant amount of material that had been removed from the original cut of the film, including scenes that became known as the French Plantation Sequence.
"I told them not to release the Snyder Cut!"
The superhero movie Justice League (directed by Zack Snyder) was the subject of an online activism campaign when fans learned that the final version of the film had been re-edited before release without the director's input. Some fans believed that this must have negatively affected the film's tone (and subsequent box office performance), and they demanded that Warner Brothers "release the Snyder cut" (that is, Snyder's original, longer version of the film). Warner Brothers eventually agreed to do so.
"Barbara Stanwyck? But why?"
Actor Barbara Stanwyck had a successful film career in the 1930s through the 60s before transitioning to television as the star of The Big Valley. The actress here resembles her.
"Enterprise, three to beam down."
Three characters in the film materialize out of nothingness, not unlike people using the transporter beam in the various incarnations of the Star Trek science fiction franchise (some of which are based on the Starship Enterprise).
"A young Wayne Newton? But why?"
Wayne Newton is a well-known singer and nightclub performer. In his youth, he was known for his thick black eyebrows and pompadour hairstyle.
"No respect, I tell ya, no respect..."
Comedian Rodney Dangerfield would typically punctuate his self-deprecating jokes by complaining that he gets "no respect". He would often say it while pulling on his collar and necktie (as Glen does here).
"F. Murray Abraham in a role that will surprise you."
Actor F. Murray Abraham played the villainous composer Salieri in the film version of the play Amadeus. At some points in the film, he appeared in old-age make-up. He also wore make-up to appear unnaturally aged in the film Star Trek: Insurrection.
"Looks like the men's room at the ballpark..."
In many sports arenas, men's rooms are not equipped with individual urinals. Male attendees relieve themselves while standing (often shoulder-to-shoulder) at long troughs with no privacy dividers.
"Ladies and gentlemen - J.Edgar Hoover!" "Your FBI in peace and war."
J. Edgar Hoover was a longtime director of the Federal Bureau of Investigation. Since his death it has become widely known that he was a closeted transvestite.
"Here's where the Stan Lee cameo would come in..."
Stan Lee was a long-time writer, editor, and eventually Publisher Emeritus of Marvel Comics. He made cameo appearances in many of the films based on characters that he co-created (e.g. Spider-Man, the X-Men, Iron Man).
"Is that Brad Pitt doubling for Leo DiCaprio?"
Actors Brad Pitt and Leonardo (Leo) DiCaprio starred together in the film Once Upon a Time in Hollywood.
"They say the horse can do."
Paraphrasing a line from the song "A Fugue for the Tinhorns" from the musical Guys and Dolls. In the song, gamblers compare the merits of the horses on which they're planning to bet.
Actress Noel Neill played Lois Lane in several TV and film incarnations of Superman.
"They're coming to get you, Barbara!"
A foreboding line from early in the film Night of the Living Dead.
"Irene Von Ryan's Express..."
Irene Ryan was the actor who played Granny on The Beverly Hillbillies. Von Ryan's Express is a film set during World War II in which a group of Allied POWs hijack a train.
"It's the Louis Vuitton Death March!"
Louis Vuitton is a high-end fashion designer known for his handbags. The Bataan Death March was an incident during World War II in which the Japanese army forced a large number of POWs into a forced march from one facility to another that many of them did not survive.
"What did you wear in the war, daddy?"
What Did You Do in the War, Daddy? is a 1966 comedy film set during World War II about a group of Americans assigned to take control of an Italian village which willingly surrenders. Antics ensue.
"Operation Petti- Oh, wait, that's a real movie..."
Operation Petticoat is a 1959 comedy set during World War II about the misadventures of a US Naval submarine that is assigned to transport 5 female Army nurses.
"Hey, that guy was on M*A*S*H!"
M*A*S*H was a long-running TV comedy (based on the book and film of the same name) set at a military hospital during the Korean War. Many scenes were set in the operating room where the characters all wore masks and hats (limiting their recognizability).
"Lucy in Peanuts was a better psychiatrist..."
In the comic strip Peanuts (in which all of the characters are children), Lucy sets up a Psychiatrist Booth (instead of, say, a lemonade stand) and offers mental health advice for five cents per consultation. Her advice was rarely helpful.
"Grr...Grr...McGruff the Crime Dog..."
McGruff the Crime Dog is law enforcement mascot used to promote vigilance and the reporting of criminal activity. He is a bloodhound who wears a trench coat and urges people to help "take a bite out of crime".
Behind-the-scenes
The livestream of Glen or Glenda was the first performance by The Mads of 2020. Following the outbreak of COVID-19, all shows by The Mads for 2020 were cancelled. This production also marks the first commercially available performance by The Mads outside their participation in RiffTrax productions. A portion of the proceeds went to benefit the NAACP Empowerment Program.
The livestream was produced by Chris Gersbeck. Frank Conniff, Trace Beaulieu, and Chris appeared via Zoom and the show streamed on YouTube. At the conclusion of the stream, a brief question and answer session took place. The Mads then announced their next planned live stream (of The Tingler on August 18th, 2020).
The version of the film used for this livestream was identified as the 25th Anniversary Edition.
During the livestream, Trace Beaulieu claimed that The Mads had riffed this film 46 times during live performances.
Later in 2020, Trace Beaulieu and Frank Conniff recorded a commentary for Glen or Glenda as part of the Sleepy Hollow International Film Festival. They were joined by screenwriters Larry Karaszweski and Scott Alexander, who wrote the film Ed Wood. It was hosted by Dana Gould and can be viewed for free here.
Video Release
The live stream was also made available for ticket purchasers to view or download following the show.
Community content is available under
CC-BY-SA
unless otherwise noted.