"
"Lookit — they're all on their way to a George Romero film festival!"
"
 
— Joel
The movie
Main article: Radar Men from the Moon
Krog orders Graber and Daly to drop a nuke into a volcano, so as to set off natural disasters.
Main article: The Slime People (film)
Subterranean invaders attack Los Angeles.
The episode
Host segments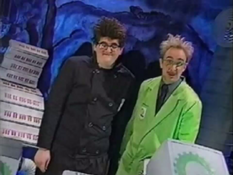 Prologue: Joel and Tom are having a rough morning, but Crow shows up all chipper complete with a "morning poem". Tom follows up that he hates "morning bots".
Invention Exchange: Joel demonstrates his cartoon eyeglasses, while the Mads show off their cotton candy that screams when you bite into it.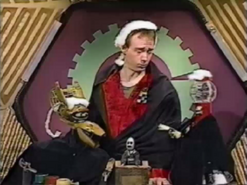 Segment Two: Crow and Tom take Commando Cody to 'reality court'
Segment Three: Joel and the bots talk about how stupid the movie is, then go off on a tangent about how to create a better show
Segment Four: The bots fill the Satellite of Love with lots of thick fog
Ending Segment: Joel bakes a pie and reads a letter
Obscure references
"Well, it's a broken water main Ralphy Boy"
A reference to Ed Norton from the TV show The Honeymooners: he worked in the sewers of NYC.
The character in question resembles the well-known American singer.
"Hey mikey, she likes it!" while kissing the girl.
A reference to a classic Life cereal commercial from the 1970s.
This is a reference to the necktie killer in Alfred Hitchcock's Frenzy.
Behind the scenes
MST3K cast
Regular cast
MST3K crew
Full crew
Production
Tom Servo does not appear in the closing segment.
This is the first episode in which they add a blue tint to a black-and-white movie, presumably to help shadowrama be more visible. It's a practice that will continue into the fourth season.
Both inventions are props from Joel's standup act.
This is the last episode to air during the 80's.
Goofs
Video releases
Gallery
References
Community content is available under
CC-BY-SA
unless otherwise noted.