"
(Sea Monster rises from the water as a couple captured natives try to flee, James Bond-like music plays in background)

James Bond is back as the spy with the biggest crab claw you've ever seen in your life! Double-O crab.

"
 
— Servo
The movie
A young man steals a boat to find his brother, but he and his shipmates become shipwrecked on a mysterious island inhabited by a giant sea monster and a slumbering Godzilla.
The episode
Host segments
Prologue: Joel reads the Velveteen Rabbit and does all the voices.
Invention Exchange: Joel shows off his Mind Control Guitar ("All I gotta do is add the appropriate facial grimaces, wear spandex, and meet with the ladies after the show!"). The Mads play their squeaky Doggie Chew Toy Guitars.
Segment Two: Joel explains the very fictional origins of Godzilla with the song "The Godzilla Genealogy Bop."
Segment Three: Crow and Tom believe that Joel is suffering from space madness and was reportedly uttering Leonard Nimoy's name while listening to Nimoy's cover of the song "The Ballad of Bilbo Baggins". They think Joel's models of famous earth structures made from found objects are further evidence of his mental decline. So they destroy the models for Joel's own good.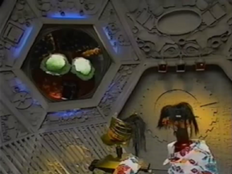 Segment Four: Despite Joel's warning, Crow and Tom mock the Mothra twins, only to receive a visit from Mothra on the Hexfield Viewscreen! Fortunately, he's pretty mellow. But later when the bots try to tell Joel about Mothra's visit, Joel won't believe them.
Segment Five: Joel teaches the bots about famous sayings that actors didn't actually say. They look at some "Cool Thing" contest entries. The Mads briefly consider the possibility of reviewing policy and instituting a change to a less hostile posture toward the crew of the SOL, but it doesn't go anywhere.
Stinger: The Mothra twins leads their followers in bowing down to their great insect god.
Obscure references
"A planet where apes evolved from man?"
"By the Power of Grayskull..."
"This must be for the seafood lover in us."
"You may find yourself living in a shogun shack!"
"I'm hysterical... and I'm wet!"
"I caught him kneeling in front a picture of Leonard Nimoy. He was burning incense and singing snatches of 'The Ballad of Bilbo Baggins'!"
"Hey! You got your backgammon in my money!" "You got your money in my backgammon!"
"It's a giant Video Toaster!"
"You want fame? Well, fame costs! And this is where you start payin'!"
"Serpentine! Serpentine!"
"I'm Servotron, the destroyer of worlds!"
"Love is like a butterfly."
"Jacques Plante; the early days."
"Super, Super, Super City!"
"Let's do the Aqua Boogie!"
"Sandwiches?" "Whatever did I give the wife?"
Behind the scenes
MST3K cast
Regular cast
Guest cast
MST3K crew
Production
The squeaky-toy guitar sound effects were provided by Mike Nelson, Jef Maynard and Alex Carr.
Footage of Godzilla jumping off the island was reused later in Godzilla vs. Megalon which was featured before this one; Servo even appears to recognize the footage. (the scene was also used as the previous episode's stinger)
This episode aired tenth during Turkey Day '91.
Callbacks
Goofs
At the end of the Godzilla Genealogy Bop, Joel accidentally says Movie Sign (though he quickly corrects himself).
Movie Edits
Video releases
A home video release of this episode is not currently forthcoming. However, the host segments are available on the Satellite Dishes disc included in Volume XXXIX.
Gallery
References
Community content is available under
CC-BY-SA
unless otherwise noted.