"
"Your experiment today is called Pod People. It has nothing to do with pods, it has nothing to do with people. It has everything to do with hurting."
"
 
— Dr. Forrester introduces the experiment
The movie
An alien slaughters the poachers and campers it encounters in the woods, while a boy befriends its offspring.
The episode
Host segments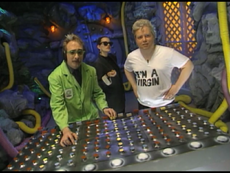 Prologue: Crow does a segment from his one-man show, "Robot on the Run", and Tom does the intro to his own show.
Invention Exchange: Joel demonstrates a new guitar chord that blows up in his face, while the Mads wail along with their new royalty-free Public Domain Karaoke Machine.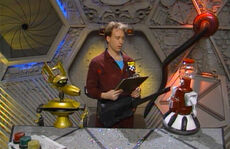 Segment Two: Joel and the Bots sing their own version of the song from the movie, "Idiot Control Now". While the Mads like it, Joel declares that "It stinks!"
Segment Three: Joel teaches Crow about creating new age music, leading to a new segment, "Music From Some Guys in Space"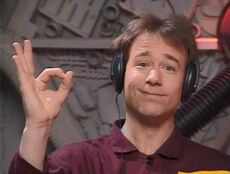 Segment Four: Trumpy's magic causes mayhem on the SOL, confusing the Mads and thrilling Joel.
Segment Five: As Joel and the bots pack up, they conclude the show with the sincere song "Clowns in the Sky", but the Mads don't like it.
Stinger: "It stinks!"
Obscure references
"Mayo..." "Don't you do it! Don't you do it! I got nowhere else to go!"
"Pod People got no reason to live."
"Pod People, isn't that Nia Peeples brother?"
"Whoa, it's the Iron Maiden dude! Check him out!"
"Now, to find a herd of cattle to drain dry."
"She's in shatters" "This town's in tatters."
"Tonight, on Music from the Hearts of Space..."
"And remember: No wire hangers!"
"These are cola nuts. These are uncola nuts."
"They're gonna die in that Samurai jeep anyway."
"Carbon scoring all over my droid."
"John Bohnam: Moby Dick!"
"It's a Peter Gabriel video!" "Yeah, somebody hit that kid on the head with a SLEDGEHAMMER!"
"Get me, I'm Lionel Richie!"
"He's got Bette Davis eyes."
"Can she carry moonbeams home in a jar?"
"This kid sounds like Georgette..."
"I like you, Tommy. I'll kill you last".
"He seeks him here. He seeks him there. He seeks that rascal everywhere."
"Something there is that doesn't love a crummy monster film... That's from "Mending Monster Film"."
"I know what you're thinking Tommy. Did Mom fire 6 shots or only 5?"
"Boldly backing away from where no man has gone before."
"That guy's gonna get his Presidential Physical Fitness Award."
"Faster, Trumpy! Kill! Kill!"
"So people are being methodically killed off by the Banana Splits."
"Trumpy...Trumpezoid...The Trumpmonster."
(Tommy!) "Can you hear me?"
"Isn't this Gary Numan and the Tubeway Army?" "In cars..."
"Hey, we're the cast from Straw Dogs."
"Oh, he's trying to hatch the egg. What is he, Horton?"
Behind the scenes
MST3K cast
Regular cast
Guest cast
Faye Burkholder

- Studio Assistant
MST3K crew
Production
Goofs
When Joel says, "Trumpy, you can do STUPID things!" in the theater, he's referencing a line by Tommy, who says, "You can do magic things!" However, Joel does that riff about ten minutes before Tommy says the original line.
Callbacks
Movie Edits
Video releases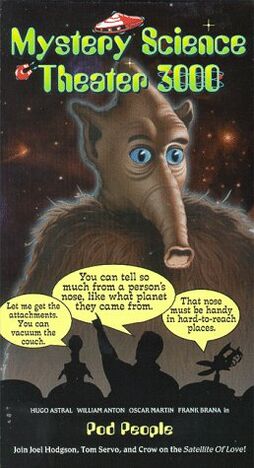 Gallery
References