"
(A scorpion slowly crawls on Kawajiri as he maniacally celebrates the opal's discovery)

"Death, where is thy sting? We're waiting."

"
 
— Servo
The movie
The giant opal a treasure hunter brings back to Japan turns out to be an egg which hatches out the kaiju Barugon, and only the newly returned Gamera can defeat it.
The episode
Host segments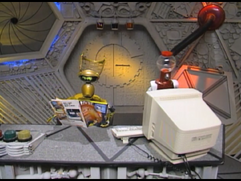 Prologue: The Bots continue the age-old debate: PC or Mac? Joel prefers his Amiga.
Invention Exchange: Joel presents an animatronic soda can for public service announcements, while the Mads boogie down with the Disco Cumber-Bubble-Bund.
Segment Two: Joel and the Bots have a blast with the 5000-piece Fightin' Men & Monster Set! Tom goes too fast in his announcement and is muffled by Joel before he can go off the rails.
Segment Three: Crow and Tom are mid-western monster women having dinner at T.G.I. Tokyo's.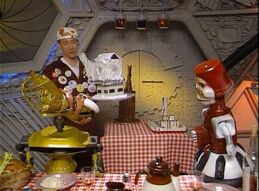 Segment Four: Joel talks about going to the Drive-In, identifies the "famous" faces in Gamera vs Barugon and vapor locks yet again.
Segment Five: The Bots lament the lack of Gamera, Joel informs them of the behind-the-scenes books on the film, and a letter is read.
Stinger: Kawajiri giggles with delight over discovering the "opal".
Obscure references
"Has anyone seen the mouse for my Amiga?"
"Oh yeah, what about System Seven?"
"Shaken not stirred, please."
"Saigon... I can't believe I'm still in Saigon..."
"Kill da wabbit, kill da wabbit..."
"You mean like Chuck Mangione?"
"Get the KC Masterpiece sauce!"
"I can't believe Gamera ate the whole thing."
"He had a contract with Wham-O."
"And now, back to our film: 'Sky King: The Motion Picture'."
"Come on, play it like you feel it, Mister Eddie's Father!"
"And now, it's Pink Lady Unplugged!"
"For God's sake, don't bungle!" "In the jungle!"
"Remember to take plenty of black market dollars with you." "Make sure they have Art Linkletter's picture on them"
"Be careful of the scorpions!" "And Whitesnake!"
"What, did somebody drop a Coke bottle all of a sudden?"
"I've gotta get this t-shirt back to Henry Chinaski!"
"Love is kind of crazy with a spooky little girl like her."
"Pat Morita, Denture Wearer!"
"Andolini? No, you're now Corleone."
"Marion! Don't look at the light, Marion! Look away!"
Behind the scenes
MST3K cast
Regular cast
Guest cast
MST3K crew
Production
Crow can be seen reading Byte magazine in the opening host segment.
The desk on the SOL was removed in order to shoot the photos for segment 1 and again for segment 3.
The Mads' Disco Bubble Cummerbund is nearly identical to Joel's Bubble Cummerbund from back in Robot Monster. Joel doesn't protest this time around about their stealing one of his inventions, though he does note that it seems rather familiar.
The "fire breathing lizard" from the Mads' Invention Exchange in The Mad Monster is used as part of the "Fightin' Men and Monster" commercial.
Joel imitates Reading Rainbow host LeVar Burton while using an air filter for a VISOR. Frank did the same thing in Godzilla vs. Megalon.
Joel declares an official ban on the "By this time…" riff in this episode.
This episode was ranked #90 among backers of the Bring Back MYSTERY SCIENCE THEATER 3000 campaign in the Top 100 Poll.
Goofs
Crow's arm detaches during the invention exchange and Joel throws it away.
Several of the bubbles during the Mads' Invention Exchange can be seen originating from off-camera.
Callbacks
Movie Edits
Video releases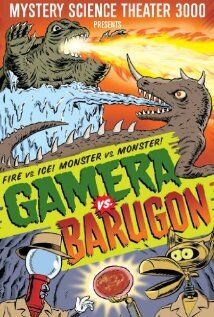 Gallery
References
Community content is available under
CC-BY-SA
unless otherwise noted.