"
This is like a stag film produced by the League of Women Voters.
"
 
— Tom Servo
The Short
Are You Ready for Marriage? (1950)
Synopsis
Another 1950's social hygiene short. In this one, a high school senior named Sue and her boyfriend want to get married right after Sue graduates. A marriage counselor discourages the young couple from entering into a hasty marriage. Always remember Cupid's Checklist:
Similar Backgrounds
Real Friends
Understand Marriage
Information
The Movie
Synopsis
Umberto Scalli (Timothy Farrell) is a gangster who manages women wrestlers as a front for his bookmaking, drug, and prostitution rackets. He trusts the wrong people and ends up trying to run away from both the police and mysterious mob boss Mr. Big, to whom he owes $35,000. [1]
Information
This film features real-life wrestlers Peaches Page, Clara Mortensen (world champion wrestler), and Rita Martinez (champion of Mexico). [2]
Tim Farrell played Umberto Scalli three times, including in 1953's Dance Hall Racket, which was made after Scalli had apparently died in this film.
Producer George Weiss had Rita Martínez affect a thick Mexican accent because her real voice was "too American".
Both George Weiss and Timothy Farrell would go on to work with Ed Wood on his first film Glen or Glenda.
The Episode
Host Segments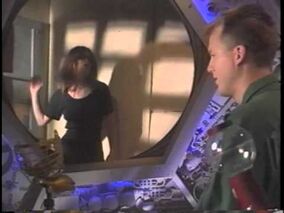 Prologue: "Lisa Loeb" appears on the Hexfield. The SOL gang isn't impressed, especially as Crow has her confused with "Courtney Hole". Mike corrects him, saying she sings for "Pearl Hole".
Segment One: Dr. F is experiencing security problems in Deep 13, as evidenced when a group of tourists comes traipsing through. Frank thwarts Dr. F's attempts to test the security system. Attempts to communicate via closet-circuit intercom also fail due to pranks, so Dr. F sends the movie in semaphore.
Segment Two: Inspired by the short, Crow wants to marry Tom, so they take a Cosmo quiz. Mike flings a rubber band like the guy in the short, the Mads yell, "It's gone!" Frank yells, "He's a sorcerer!"
Segment Three: Crow's bachelor party, complete with stripper Jan in the Pan and guilt for cheating on the beautiful Servo, is very depressing.
Segment Four: The Bots' wedding, attended by Gypsy, Mike, Frank, and the tourists, and officiated by a cynical Dr. F, ends in wrestling chaos.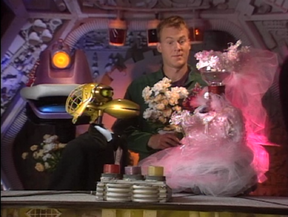 Segment Five: Even Mike and the Bots, dressed as wrestlers, think there was too much wrestling in the movie. A letter is read from an adorable five year old after the Bots turn one down about a lecture. Lisa Loeb demonstrates Deep 13's continued lax security, and disappoints Frank.
Stinger: SNAP! "It's gone!" "Where'd it go?"
MST3K cast
Regular cast
Guest cast
Trivia
Callbacks
Running Gags
Several references to song lyrics by the band REM ("Radio Free Europe" "Let's go back to Rockville..." "Gold and silver shine..." "Stand in the place where you live" "That's us in the corner, that's us in the spotlight!") suggested by Mr. Big's henchman's slight resemblance to lead singer Michael Stipe.
Numerous comparisons between Joe and other well-known short actors (e.g. Sonny Bono, Al Pacino, etc).
Obscure Reference
"You still didn't pay your Grit bill, ma'am."
Grit was an early nationwide newspaper (since converted to magazine format, and now distributed mainly in rural areas) whose subscriptions were sold door-to-door by children, many of whom were recruited through ads in comic books.
"I hope Leopold doesn't find out about this."
Nathan Leopold and Richard Loeb were a couple of wealthy college students who, in one of the most notorious crimes of the 20th century, kidnapped and murdered a young boy. The murder was largely based on their sense of intellectual superiority, and their belief that they could carry out the "perfect crime."
"I got kicked out of L7."
L7 was an all-female alternative rock band.
"I had a chum in college, who had 'the real thing' with eight successive girls." "Wilt Chamberlain?"
Wilt Chamberlain was a famous basketball player and lifelong bachelor who claimed to have slept with 20,000 women in his lifetime.
"I think it was in 'Humor in Uniform'."
"Humor in Uniform" is a regular feature in Reader's Digest to which readers contribute humorous anecdotes about military life.
"I've asked King Vitaman to join us."
King Vitaman is a breakfast cereal.
"Suddenly, their marriage is The Eiger Sanction!"
The Eiger Sanction is a 1975 thriller film starring Clint Eastwood as an assassin ordered to kill a mountain climber.
[gunfire sounds] "Marines, we are leaving!" "Sorry, I was back in Da Nang there."
Supposedly, Sue is having a flashback to the Vietnam War. The quote "Marines, we are leaving!" while alluding to the war is actually a quote from the movie Aliens.
Cthulhu is a fictional evil god that originated in the writings of H. P. Lovecraft.
"So give to me your leather, take from me my lace!"
Quoted from the song "Leather and Lace", a duet between Stevie Nicks and Don Henley.
"Hi, Roy! Who's the beard?"
"Beard", in this context, is a slang term for a woman who pretends to be a closeted gay man's girlfriend.
"Dance with me/I want to be your partner, can't you see?"
Servo is quoting the song "Dance With Me" by Orleans.
From the theme song to the original version of Ocean's Eleven.
"Hey, it's Fran Lebowitz!" "Still not writing."
Fran Lebowitz is an American essayist known for her sardonic sense of humor. She claimed, "All the time I'm not writing I feel like a criminal."
"Don't talk about our son, Martha!"
Crow is imitating George (Richard Burton) in Who's Afraid of Virginia Woolf?.
Timothy Busfield is a red-haired actor. At the time of this episode's production, he was best-known for his roles in the TV series thirtysomething and the first two Revenge of the Nerds movies.
This refers to recurring characters on the variety/sketch comedy TV series The Carol Burnett Show. The businessman Mr. Tudball (who spoke with a foreign accent) would address his disinterested secretary Mrs. Wiggins in this manner.
"Peaches En Regalia" is a song from the Frank Zappa album "Hot Rats".
"Our next guest—Dagmar, ladies and gentlemen..."
Dagmar was an American television personality who came to prominence in the 1950s. She was blonde and voluptuous.
"This'd turn k.d. lang hetero!"
k.d. lang is an openly lesbian pop singer.
On the show Fawlty Towers, the phrase "He's from Barcelona" is given as an excuse for anything that Manuel (played by Andrew Sachs) says or does that is considered abnormal.
"Are you a good witch or a bad witch?"
Glinda the Good Witch of the North asks this of Dorothy when she arrives in Oz in the film The Wizard of Oz.
"Hey, Joe!" "Where you going with that gun in your hand?"
References lyrics from the Jimi Hendrix song "Hey Joe".
Tom is mimicking the vocal style of the lovelorn Miss Hathaway from The Beverly Hillbillies, who is enamored of the brawny and dim-witted Jethro Bodine.
"You know Peaches' bikini sold at Sotheby's for $50,000?"
Sotheby's, a multinational corporation, is one of the world's largest brokers of fine and decorative art, jewelry, real estate, and collectibles. It is the world's largest art business, with global sales in 2011 totalling $5.8 billion.
"You'd better not." "Baravelli."
Baravelli is the name of the scheming bumbler played by Chico Marx in the comedy film Horse Feathers. The relationship dynamic between Baravelli and his boss Professor Wagstaff (played by Groucho Marx) is similar to the one between Joe and Scalli.
"He's got a Hal Linden look..."
Hal Linden is an American actor best known for playing the title role on the TV comedy Barney Miller. He typically has a mustache.
"When Ed Wood saw this movie, it's like when Truffaut saw Citizen Kane!"
French film director Francois Truffaut was deeply inspired by Citizen Kane, leading him to do The 400 Blows. The joke is even deeper in that it is suspected Edward D. Wood Jr. did have a hand in the film, as writer and/or director. George Weiss produced some of Wood's films, Timothy Farrell appeared in several of Wood's films, and the writing and direction were strongly similar to Wood's. Ruby is even wearing an angora sweater; angora is one of Wood's fetishes. Robert C. Dertano is credited with directing, and no one is given a screenplay credit. Rather, Weiss "suggested" the story.
"Prelude to the Afternoon of a Hot Faun."
Prelude to the Afternoon of a Faun is a symphonic poem for orchestra by Claude Debussy inspired by the poem "The Afternoon of a Faun" by Stéphane Mallarmé. It is one of Debussy's most famous works and is considered a turning point in the history of music.
"Ciao, Laverne!" "Ciao, Shirley!"
Laverne & Shirley is an American sitcom starring Penny Marshall and Cindy Williams as Laverne De Fazio and Shirley Feeney, respectively. Set in the late 1950s–early 60s, they were often the object of unwanted attention from their greaser neighbors/co-workers Lenny and Squiggy.
"Where's Benny Hill when you need him?"
Benny Hill was the star of The Benny Hill Show, a long-running sketch comedy series in England. The show was known for its heavy use of puns, visual gags, and slapstick, and for ending each episode with Benny chasing (or being chased by) a group of attractive (often provocatively-dressed) women.
With his dark hair, short stature, and mustache, Joe slightly resembles silent-film star Charlie Chaplin. This riff may also reference the autobiography of Harpo Marx, which is entitled Harpo Speaks. Harpo's film characters are typically mute and often shown acting lasciviously and chasing women.
"Hey, why don't we do it in the road? No one will be watching us."
Mike quotes the lyrics to The Beatles' song "Why Don't We Do It in the Road?"
"You catch Life of Riley last night?"
The Life of Riley is a popular radio comedy series starring William Bendix as the working class Chester A. Riley. The show was split between his work life and his home life and ran from 1944 to 1951. It had a film adaptation and a short-lived TV adaptation in 1949 (which starred Jackie Gleason), then returned to television in 1953 with Bendix in the role. The revived TV series ran from 1953 to 1958.
"Hi, we're here to do Greater Tuna."
Greater Tuna is a 1981 comedy stage play written by Jaston Williams, Joe Sears, and Ed Howard. It is set in a small town in the southern United States and features a cast of two performers each playing multiple roles. By 1985, it was the most-produced play in the United States according to some reports.
"We'll be seeing you." "In all the old fa—well, you know..."
The first line of the song "I'll Be Seeing You" (written by Sammy Fain and Irving Kahal) is "I'll be seeing you, in all the old familiar places..."
"He looks like a bush baby."
"Bush baby" is a colloquial term for the galago, a small nocturnal primate native to sub-Saharan Africa. They have large eyes, strong hind limbs, long tails, and bat-like ears.
Musician Sonny Bono discovered the singer Cher and helped make her an international celebrity. Bono was known for his short stature and mustache. They were married from 1964–1975 and were a rock duo from 1964–1977 known as Sonny & Cher.
"DiceCrafters—New dice in about an hour."
A play on the slogan for the eyeglasses vendor LensCrafters, which pledges to provide "new glasses in about an hour".
"Joe paved the way for Hervé Villechaize."
Hervé Villechaize (1943–1993) was a dark-haired little person actor from France who spoke heavily-accented English. His notable roles included Knick-Knack in the James Bond film The Man with the Golden Gun and Tattoo on the TV show Fantasy Island.
"I get my partner, Rusty. Hey, Rusty!"
Another reference to Chico Marx, whose characters were often paired with characters played by his brother Harpo. Harpo played "Rusty" in Go West and A Night in Casablanca.
A quote from the stuffy dowager character played by Margaret Dumont in the Marx Brothers film Duck Soup. Professor Rufus T. Firefly (played by Groucho) was the object of her affection, though he occasionally scandalized her with his unconventional demeanor and comments.
"If Russ Meyers had directed Clare Boothe Luce's The Women."
Tom mis-pronounces the name of filmmaker Russ Meyer, who was known for casting voluptuous women in his movies. Clare Booth Luce's 1936 satirical stage play The Women had an all-female cast and was made into a popular film of the same name in 1939 starring Rosalind Russell and Joan Crawford.
"And you thought Eunice Kennedy Shriver wasn't sexy."
Eunice Kennedy Shriver was a sister of U.S. President John F. Kennedy and Senators Robert and Ted Kennedy. A philanthropist, Eunice Kennedy Shriver founded the Special Olympics. She was 73 years old when this episode first aired.
"Miss Manners in Personal Best."
"Miss Manners" is a newspaper etiquette advice column written by Judith Martin. Personal Bestis a 1982 film starring Mariel Hemingway as real-life track-and-field athlete Patrice Donnelly.
The One Minute Manager is a 1982 business book that advocates quick but supposedly effective managerial practices.
"Ohh... Peaches and Herb..."
Peaches & Herb is an American vocal duo. Since 1966, singer Herb Fame has paired with seven different women using the stage name "Peaches". They primarily sing in the soul and R&B genres.
"I'd rather see Bob Hoskins in that sweater."
Heavyset actor Bob Hoskins is known for his roles in films including Brazil, Who Framed Roger Rabbit?, Hook, and Super Mario Brothers.
"Sorry, Peaches is getting kind of clingy."
Cling peaches (or "clingstone peaches") are peaches with flesh that clings to the pit, making it difficult to remove the pit without damaging the fruit. Their opposite is a freestone peach.
"Calvin Coolidge, referee."
Calvin Coolidge was a politician and lawyer who served as the 30th President of the United States from 1923 to 1929. He was a slender man who typically wore his hair slicked down.
"It's Sean Young after another part."
This refers to a highly-publicized incident from the early 1990s in which the actress Sean Young supposedly confronted film director Tim Burton while dressed as Catwoman in an effort to demonstrate to him that she was well-suited to the role in the then-upcoming Batman Returns. Young did not get the role, and her reputation suffered.
"Alf Landon, ladies and gentlemen!"
Alfred "Alf" Landon was the 26th Governor of Kansas and the 1936 Republican nominee for President of the United States. He lost decisively to incumbent Franklin Delano Roosevelt. The announcer here resembles him slightly.
"Their hands are so nice and smooth he can't tell which one is the mother!"
A more accurate recollection of the dishwashing liquid ad campaign that prompted the repeated riff "I thought you were Dale!".
"What's New Pussycat? Oh-woh-owoh-oh-oh..."
The title line from the song "What's New Pussycat", written by Burt Bacharach and Hal David for the 1965 film of the same name.
"I'll see what Lucy and Ethel are up to..." and later "Thanks, Bub!"
The man here resembles the grey-haired and heavyset character Fred Mertz (played by William Frawley) from the TV comedy I Love Lucy. Fred's wife Ethel was the best friend of Lucy, and they often found themselves in precarious situations. Frawley later played Bub on the sitcom My Three Sons.
"I'd rather see Golda Meir in that get-up."
Golda Meir was the fourth Prime Minister of Israel, serving from 1969 to 1974. She was sometimes mocked for having a mannish appearance and physique.
Actor Treat Williams used to have notably thick brown hair and eyebrows (now grey). He starred in the film adaptation of the musical Hair and the comic strip The Phantom.
"This film awakened Eleanor Roosevelt's sexuality."
Former United States First Lady Eleanor Roosevelt has often been the subject of speculation regarding her possible lesbianism.
The face and physicality of the actor in this scene slightly resemble those of the character Ed Norton (played by Art Carney) on the TV sitcom The Honeymooners. Ed would often address his friend Ralph in this manner.
"Tastes great!' "Less filling!" "Stuffing!" "Potatoes!" "Lincoln!" "Douglas!"
Referring to several notable arguments- The "Tastes great/Less filling" debate was the center of an ad campaign for Miller Lite beer in which people would argue which of its merits was greater. Similarly, ads for Stove Top stuffing urged people to serve it instead of potatoes. In a 1858 U.S. Senate campaign, future President Abraham Lincoln engaged in a series of well-publicized debates against incumbent Stephen Douglas which focused on slavery.
"If Kathy and Mo split up..."
The Kathy and Mo Show was a live sketch comedy show with a feminist perspective written by and starring Kathy Najimy and Mo Gaffney. It had 3 successful runs in New York City and was adapted into 2 TV specials for HBO.
"Women on the verge of a three-point takedown."
Women on the Verge of a Nervous Breakdown is a 1988 Spanish comedy.
"Yes, I want Joe Frazier!"
Referring to boxer Muhammad Ali's declaring his intention to challenge Joe Frazier for the title of Heavyweight Champion of the World.
"She looks like a Romulan!"
Romulans are an alien race in the Star Trek science-fiction franchise. They are consistently depicted with dark, pointed eyebrows.
"She's got a little Yogi Berra there, too."
Yogi Berra was an American baseball catcher, coach, and manager. He was known for his toothy grin and folksy malapropisms.
"Come along with me, Lucille..."
This paraphrases a line from the 1905 song "In My Merry Oldsmobile" written by Gus Edwards and Vincent P. Bryan. The actual line is "Come away with me, Lucille", as the song is about a couple who court and fall in love in an automobile. A similar mis-quote occurs during Experiment #612.
Pat Nixon was the wife of U.S. President Richard Nixon. She had blonde hair and tended to dress conservatively.
This seems to be a reference to Zelda Gilroy, the dark-haired friend of Dobie Gillis on the TV sitcom The Many Loves of Dobie Gillis. Zelda was enamored of Dobie and believed that they were destined to be together, despite Dobie's preference for more glamorous women. Zelda would often wrinkle her nose at him (like Rita Martinez does here), prompting Dobie to reflexively respond in kind, which Zelda interpreted as proving her point that they were meant for each other.
"Tonight! At the Corn Palace! Five-Time winner Sawyer Brown!"
The Corn Palace is a large arena/performance venue in Mitchell, South Dakota. Sawyer Brown is an American country music band that came to prominence following their multiple appearances on the TV talent contest Star Search (which was hosted by Ed McMahon, whose vocal style Crow mimics).
"Go home, everybody! Go home!"
Tom is mimicking comedian Tracey Ullman, who would end episodes of her sketch comedy TV show by addressing the audience while wearing her robe, eventually yelling at them to "Go home!".
"The World's Champion, Clara-" "Peller!"
Clara Peller was an elderly woman who appeared in a very successful series of advertisements for the fast-food restaurant Wendy's in which she would look at a competitor's relatively small hamburgers and ask "Where's the Beef?".
"She's too mannish for Alice B. Toklas!"
Alice B. Toklas was a member of the Parisian avant-garde in the 1920s. She was the lesbian partner of writer Gertrude Stein, who was known to not have an especially-feminine appearance.
"Boy, if ever a movie needed El Santo!"
El Santo was a popular Mexican wrestler and film star. He was the hero of Samson vs. the Vampire Women, which would later become Experiment #624.
"Andy, did you hear about Elvis?"
A line from the song "Man on the Moon" by the band REM. The song is about/directed to comedian Andy Kaufman, who would engage in exhibition wrestling matches against women. Kaufman would also do an Elvis impersonation on occasion.
"She's got kind of a Pernell Roberts strut."
Pernell Roberts was one of the stars of the TV western Bonanza, in which he played the oldest son Adam. He later played the titular role on the TV medical drama Trapper John, MD. Roberts was the star of the TV movie San Francisco International, which had been used in Experiment #614. His character's cockiness was commented on several times during that experiment.
"Do you know any bookmakers, Mr. Scalli?" "Well, Simon & Schuster, Houghton Mifflin..."
In this context, "bookmaker" refers to people who process illegal gambling bets. Simon & Schuster and Houghton Mifflin are publishing houses.
"Joe was the Brian Benben of his day."
Brian Benben was the star of the HBO comedy series Dream On, which often featured nudity and sexual situations. Dream On won the Cable ACE Award for Outstanding Comedy Series of 1991, a category in which Mystery Science Theater 3000 was also nominated.
"See, I knew it was in Ephesians!"
Ephesians is the tenth book of the Bible's New Testament.
Observers of the Hindu faith often wear a colored dot on the center of their forehead. This is called a bindi and represents the opening of the third eye.
Tin Machine was a hard rock supergroup fronted by David Bowie (whom one of the mobsters resembles in this shot).
"They shouldn't have let Éric Rohmer direct a high-speed chase sequence."
Éric Rohmer was a French filmmaker whose works typically featured long conversations between intelligent, articulate characters in laconic settings. Fast-paced action was not within his milieu.
"Must be the same magic bullet that got Connally."
Texas Governor John Connally was riding in the same convertible as U.S. President John F. Kennedy when Kennedy was shot and killed in 1963. Connally was also injured by a gunshot. Some analysts have questioned the official account of the shooting, claiming that it requires a "magic bullet" to strike both men.
"Packed with cops, this movie really satisfies."
A former slogan for Snickers candy bars was "Packed with peanuts, Snickers really satisfies."
"It's Herbie the cop car!"
Herbie is a sentient Volkswagon Beetle that became the protagonist in the Love Bug series of family films.
"This is the sequence John Woo directed."
Hong Kong film director John Woo is known for his graphic depictions of violence, particularly gunplay. At the time of this episode's production, Woo was just beginning to make films in the United States.
"This movie was the Jaws of its day; people were afraid to go to lady wrestling!"
After the success of the 1975 film Jaws (which is about a giant shark that eats several people at a New England vacation spot), attendance at beaches diminished significantly.
Video Release
Commercially released on DVD by Shout! Factory in July 2009 as part of The Mystery Science Theater 3000 Collection: Volume 15, a 4-DVD set along with The Robot vs the Aztec Mummy, The Girl in Lovers Lane, and Zombie Nightmare.

DVD special features include Sneak Peek: Hamlet A.D.D. and the film's theatrical trailer (under the name Blonde Pickup).

Available for rent or purchase on Amazon's streaming service.