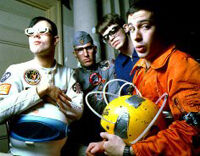 Man or Astroman? are a largely instrumental surf rock band from Auburn, Alabama that combine classic surf rock stylings (Dick Dale, The Ventures) with elements of 1980's New Wave and Punk Rock and were known for the Science Fiction themes of their songs and their liberal use of sound clips from vintage TV shows and Sci-fi movies.
MST3K
During his return to The Satellite of Love, Joel Robinson revealed that he had worked for the band doing "pyrotechniques".
Behind-the-Scenes
Man or Astroman? is a real-world band and have been associated with Mystery Science Theater 3000 since they released a cover of the "MST3K Love Theme" on the 1993 promotional EP Amazing Thrills! in 3-Dimension and their 1994 compilation album Destroy All Astromen!. Joel Hodgson joined the band on stage for a performance of the song during a live show in the mid-1990s.
All members go by pseudonyms and claim to be extraterrestrials sent to Earth to play surf music. Members through the years have included: Birdstuff, Coco the Electronic Monkey Wizard, Star Crunch, Dr. Deleto, Cap'n Zeno, Dexter X (The Man from Planet Q), Trace Reading and Blazar the Probe Handler.
Man or Astro-man? recorded the closing theme for Space Ghost Coast to Coast, a talk show for which Joel Hodgson wrote and appeared in one episode.
Community content is available under
CC-BY-SA
unless otherwise noted.