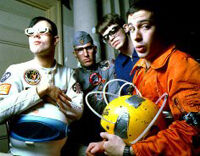 Man or Astroman? are a surf rock band from Auburn, Alabama.
Members
Members through the years have included:
Birdstuff
Coco the Electronic Monkey Wizard
Star Crunch
Dr. Deleto
Cap'n Zeno
Dexter X, The Man from Planet Q
Trace Reading
Blazar the Probe Handler

All members go by pseudonyms and claim to be extraterrestrials sent to Earth to play surf music.
Style
Man or Astro-man? are a largely instrumental band that combine classic surf rock stylings (Dick Dale, The Ventures) with elements of 1980's New Wave and Punk Rock and were known for the Science Fiction themes of their songs and their liberal use of sound clips from vintage TV shows and Sci-fi movies.
In their later years their music incorporated a more synthesizer-heavy and experimental sound to their surf core, including one song (A Simple Text File) that was played using nothing more than a dot matrix printer.
MOAM and MST3K
Man or Astro-man? are arguably best known for their rendition of the Mystery Science Theater Love Theme on their Destroy All Astromen album. Their cover of this song forever ingrained them in the MST3K universe and drew the attention of MST cast and crew, including Joel who sang the Love Theme with them at one live show in the mid-1990s.
Joel's in-show character, Joel Robinson, said during Experiment 1001's Soultaker that, after liberation from the Satellite of Love, he was employed doing pyrotechnics for Man or Astro-man?.
Man or Astro-man? recorded the closing theme for Space Ghost Coast to Coast, a talk show on which Joel Hodgson appeared in one episode.
Community content is available under
CC-BY-SA
unless otherwise noted.