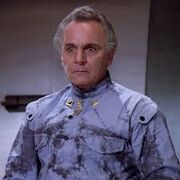 Michael Pataki (January 16, 1938 - April 15, 2010) is a character actor with an extensive career in both film and television.
Pataki has appeared in numerous television productions, from the black and white days of Playhouse 90, The Twilight Zone, and My Favorite Martian to later shows like The Flying Nun, Bonanza, All in the Family, Batman (opposite Adam West), Mannix (in an episode that also featured Leslie Parrish) and The Green Hornet. Pataki was also a regular on Paul Sand in Friends and Lovers and The Amazing Spider-Man, and had a re-occurring role on McCloud. One of his most famous roles was as Korax, the loudmouthed Klingon who started the bar fight in "The Trouble With Tribbles" episode of Star Trek (with William Shatner).
He also played Governor Karnas on the Star Trek: The Next Generation episode "Too Short a Season" and George Liquor in the episodes of The Ren and Stimpy Show entitled "Dog Show" and "Man's Best Friend". He was also the voice of The Cow in Mighty Mouse: The New Adventures (along with many other secondary characters). Pataki played a guest spot on Happy Days Season 4 (with Ron Howard) as Count Malachi, one half of the Malachi Brothers where he uttered the famous line "Let the pigeons loose".
Pataki has appeared in various movies of varying qualities including playing the head of the Soviet boxing team in Rocky IV (with Sylvester Stallone).
Pataki also worked as a director. He directed Gypsy's beloved Richard Basehart in Mansion of the Doomed, and the 1977 version of Cinderella (starring Cheryl Smith).
Riffed Movies
Gallery