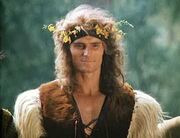 Miles O'Keeffe is a B-movie actor best known for the Ator series of films, as well as Tarzan the Ape Man (1981) with Bo Derek and John Phillip Law. He has also starred in films such as Cartel, Waxwork, Zero Tolerance and Phantom Raiders.
O'Keeffe is considered to be a "good sport" and fan of MST3K. He enjoyed the work the MST3K crew did on Cave Dwellers so much that he contacted Best Brains and requested a copy of the tape.
Riffed Movies
See Also
Community content is available under
CC-BY-SA
unless otherwise noted.