"
He's so perky! KILL HER.
"
 
— Crow
Mr. B Natural is the title and main character (played by Betty Luster) of a short film produced in 1957 by the C.G. Conn Company, and directed by Phil Patton to advertise Conn's line of musical instruments. The film begins with a fantasy sequence emphasizing the fun of school bands and musical instrument playing, and how they contribute to a child's "future personality".
The titular character is an androgynous figure who convinces an adolescent boy named Buzz Turner (Bruce Podewell) to take up playing the trumpet when s/he magically appears in his room one day. The actress strongly resembles Mary Martin and the casting was probably inspired by Martin's Peter Pan. In the film, Buzz finds through the gift of music and the help of his mysterious friend the confidence and assertiveness he needs to try out for the school band, make friends, and play solos at concerts and at the big school dance. This feature is typical of many short films of that era that portrayed a stereotypical view of life among teenagers and the white middle class in the 1950s.
Mystery Science Theater 3000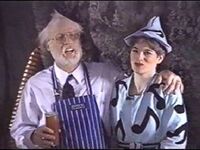 Mr. B Natural was featured on Mystery Science Theater 3000 in 1991, as the short preceding the film War of the Colossal Beast in experiment 319. It is regarded by fans as one of the most memorable shorts ever done by the show. During the short, Joel and the Bots mocked Mr. B's gender ambiguity and seemingly sinister interest in Buzz, and joked that Mr. B was in fact a demon, or even Satan himself. Following the short, Crow and Servo engaged in a debate as to whether Mr. B Natural was a man or a woman. The short film is briefly seen again in the closing moments of Season 12's Ator, the Fighting Eagle when Kinga Forrester and Max end up trapped in the theater by Jonah Heston and are made to watch their own experiments.
The character was also played by Bridget Nelson during the MST3K Anthology, including the host segments of the "Turkey Day" edition of Night of the Blood Beast, where, to his annoyance, he attracted the affections of Jack Perkins (played by Michael J. Nelson, the actress's real-life husband). He is later seen immobile along with Pitch after eating Pearl Forrester's "Turkey Surprise".
Community content is available under
CC-BY-SA
unless otherwise noted.