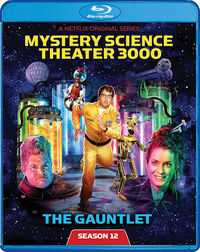 Mystery Science Theater 3000: Season 12 - The Gauntlet is a box set released by Shout! Factory. It was released on November 26, 2019 in both the Blu-ray and DVD formats.
The set encompasses the entirety of Season 12 on three discs, two episodes per disc. There are no extras.
The package consists of a cardboard box/sleeve with a single DVD or Blu-ray case to hold the entire collection.
Disc 1
Disc 2
Disc 3
Community content is available under
CC-BY-SA
unless otherwise noted.