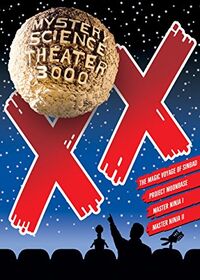 Mystery Science Theater 3000: Volume XIV is a DVD box set released by Shout! Factory. It was released on March 8, 2011.
The set features four episodes hosted by Joel.
The package consists of a cardboard box/sleeve with four individual slim DVD cases, each with individual episode-specific artwork. Also in the package were four mini-posters that utilized the same artwork as the DVD cases.
Disc 1
Disc 2
Disc 3
Disc 4
Community content is available under
CC-BY-SA
unless otherwise noted.