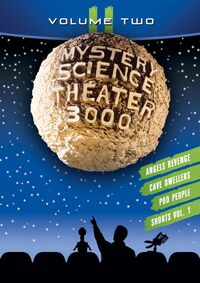 Mystery Science Theater 3000 - Volume II is a DVD box set released by Shout! Factory on May 24, 2016. It is a re-release of The Mystery Science Theater 3000 Collection, Volume 2 from Rhino Entertainment.
The set includes three episodes (two with Joel, one with Mike) and the first "Shorts" collection.
Unlike the original Shout! box sets, which feature four slimline DVD cases in an outer box, the Rhino re-releases are packaged in a single DVD case with a double-sided flip tray.
The discs are presented in original episode number order, unlike the original release.
Contents
Disc 1
Disc 2
Disc 3
Disc 4
Community content is available under
CC-BY-SA
unless otherwise noted.